Knowing how to control VM sprawl is one of the keys to maintaining an efficient, high-performing virtual server infrastructure.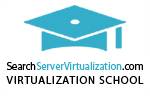 When the number of virtual machines (VMs) on the network reaches the point where an administrator can't manage them effectively -- or where the VMs start demanding excessive host resources -- that means there is virtual sprawl.
Virtual servers have the same needs as physical servers when it comes to security, storage and management. If you can't control VM sprawl, there can be serious ramifications on the safety and reliability of not just your virtual server infrastructure, but of your physical infrastructure too.
This Virtualization School course offers several lessons on how to identify and control VM sprawl in your virtual server infrastructure. Read tips from experts and listen to a podcast to learn about the causes of and solutions to virtual sprawl. Then take a quiz to find out how much you know -- and get additional information about the areas you need to study up on.
With the resources in this course, you'll learn how to use server consolidation, capacity planning and other strategies to control VM sprawl. And you'll get the information you need to prevent sprawl from returning to your virtual server infrastructure.
Virtualization School: Control VM sprawl in your virtual server infrastructure


More resources on how to control VM sprawl


This was first published in December 2009