Q
Problem solve
Get help with specific problems with your technologies, process and projects.
Troubleshoot System Center Orchestrator RunBook issues
By referencing various log files, like the Real-Time Log and the Historic Log, and checking the Orchestrator Runbook Audit History page, you can more easily locate the point of failure.
Repeated tasks are the bane of IT pros' existence. System Center Orchestrator alleviates some of that burden by...
Continue Reading This Article
Enjoy this article as well as all of our content, including E-Guides, news, tips and more.
automating several key runbook management and troubleshooting activities while preserving event history for review as needed.
System Center Orchestrator consolidates runbook tasks into a single task, then executes against a target using System Center Orchestrator RunBook. You can add instructions to control the sequence of activities in a runbook. You can also create unlimited runbooks and execute one or all of them at the same time. When it comes to troubleshooting System Center Orchestrator RunBook issues, reference the log files where runbook-related activities are recorded. You can view log files to learn the status of each runbook, collect real-time log events for runbooks that are executing and also check runbook audit history. In Runbook Designer, you can view real-time log events, historic events and runbook auditing history.
Real-Time Log: The Real-Time Log shows activities related to running instances of runbooks and the time a runbook was started.
Historic Log: The Historic Log includes start and end times of a runbook. You might want to check whether a runbook executed all the activities or not. If a runbook terminates unexpectedly, you won't see the end time. If you want to see which activity failed, double click on the runbook to see details about the activity.
Runbook Audit History: If a runbook ran successfully previously but failed to execute recently, it makes sense to check the Runbook Audit History page. The Runbook Designer keeps track of changes to each activity in the runbook and the user who made the changes, including the date and time when the changes were made. Runbook Audit History also includes previous values, so it's easy to revert back to them.
When troubleshooting runbook failures, enable the Activity-specific Published Data option for each activity. By default, published data isn't included for each activity. You need to enable published data for runbooks from the logging property of the runbook as shown in Figure A: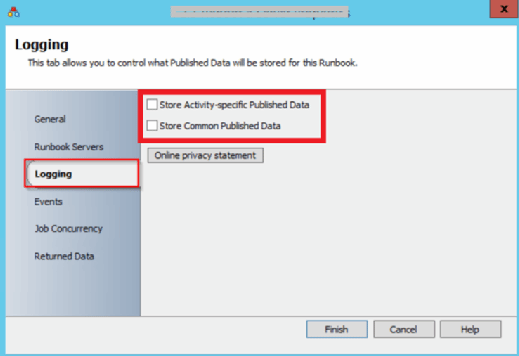 While System Center Orchestrator RunBook logs might help you troubleshoot issues, a freeware utility called Orchestrator Health Checker helps you understand active runbooks and performs other runbook-related actions.
Dig Deeper on Virtual machine monitoring, troubleshooting and alerting
PRO+
Content
Find more PRO+ content and other member only offers, here.
Use the Get-EventLog PowerShell cmdlet with the desired parameters to retrieve a Hyper-V event log. This command gets errors and warnings and exports...continue reading
PowerShell commands save time and enable admins to migrate multiple VMs outside a Hyper-V failover cluster from one host to another, as well as VMs ...continue reading
System Center Orchestrator provides Run .Net Script activity, which can be used to call PowerShell scripts, but there are limitations you should know.continue reading
Have a question for an expert?
Please add a title for your question
Get answers from a TechTarget expert on whatever's puzzling you.