News
Stay informed about the latest enterprise technology news and product updates.
VMworld 2017 conference coverage
Introduction
It's not easy to reinvent a company. For years, VMware has struggled with the reality that vSphere adoption has peaked. The company's Q4 2015 and FY 2015 earnings reports showed a steady decline in vSphere software licensing sales and projected a continued decline. Since vSphere is the foundation of most VMware products, this led some experts to question how it would affect the demand for VMware skills and whether the company as a whole was in a state of decline.
VMware has gone to lengths to capitalize on the growing popularity of cloud computing. VMware debuted its Cross-Cloud Architecture and Cloud Foundation at VMworld 2016 as part of its multicloud efforts. Cross-Cloud Architecture allows customers to run identical environments across the VMware cloud partner network. VMware also readjusted its cloud strategy and announced its partnership with Amazon Web Services that enables users to run vSphere inside an AWS data center.
VMware has also dedicated additional focus to its products and services that are performing well. VMware's software-defined networking product, NSX, and its hyper-converged storage feature, vSAN, have both experienced significant growth. NSX doubled its customer count and reported 50% year-over-year growth in 2016. VSAN's adoption rates skyrocketed, with VMware reporting over 7,000 customers and 150% growth year over year. In response to these successes, VMware released NSX-T 1.1 for non-vSphere environments and an updated version of vSAN with new features, like vSAN Encryption, RAID 5 and RAID 6 erasure coding and improvements to its stretched cluster feature.
While VMware can't expect continued vSphere growth, it certainly isn't down for the count. Check back for the latest announcements and product news from the show. VMworld 2017 will take place from Aug. 27 through Aug. 31 at the Mandalay Bay Hotel & Convention Center in Las Vegas. Check out our full coverage of the event, including news from the show floor.
1

Best of VMworld Awards

-
The best of the best from VMworld U.S.
With VMworld 2017 -- and TechTarget's Best of VMworld 2017 U.S. Awards -- rapidly approaching, let's take a look at previous VMworld award winners.
2

SDDC & virtualization news

-
News and updates about VMware's software-defined data center and virtualization offerings

Download this free guide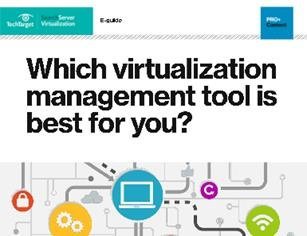 VMware vs. Microsoft vs. Citrix
Download now to compare the top ten virtualization management tool providers including VMware, Microsoft, and Citrix, and see what improvements your organization could make with a virtualization management tool.
By submitting your personal information, you agree that TechTarget and its partners may contact you regarding relevant content, products and special offers.
You also agree that your personal information may be transferred and processed in the United States, and that you have read and agree to the Terms of Use and the Privacy Policy.
3

Container & cloud news

-
Explore VMware's cloud computing and container strategy
4

End-user computing news

-
The latest advancements in VMware desktop and end-user computing
5

Key VMware terms

-
Learn this VMware jargon to prepare for the conference