Definition
AMD (Advanced Micro Devices)
AMD is the second largest maker of personal computer microprocessors after Intel. They also make flash memory, integrated circuits for networking devices, and programmable logic devices. AMD reports that it has sold over 100 million x86 (Windows-compatible) microprocessors. Its Athlon (formerly called the "K7") microprocessor, delivered in mid-1999, was the the first to support a 200 MHz bus. In March, 2000, AMD announced the first 1 gigahertz PC microprocessor in a new version of the Athlon.

Download this free guide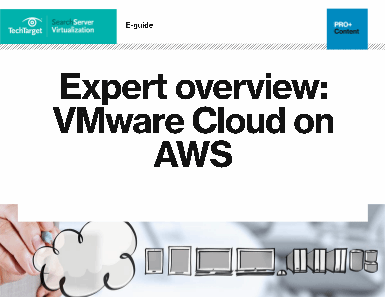 PDF: Experts examine VMware Cloud on AWS partnership
The AWS and VMware partnership is certainly an interesting one, with big changes possibly taking place in both the VM and public cloud markets. Get our experts' first take here.
By submitting your personal information, you agree that TechTarget and its partners may contact you regarding relevant content, products and special offers.
You also agree that your personal information may be transferred and processed in the United States, and that you have read and agree to the Terms of Use and the Privacy Policy.
Founded in 1969, AMD along with Cyrix has often offered computer manufacturers a lower-cost alternative to the microprocessors from Intel. AMD develops and manufactures its processors and other products in facilities in Sunnyvale, California, and Austin,Texas. A new fabrication facility was opened in Dresden, Germany, in 1999.
The lower cost of AMD's microprocessors was a contributor to lower PC prices in the 1998-2000 period. Reviewers generally rated the K6 and Athlon equivalent to or slightly better than comparable Pentium microprocessors from Intel. In addition to "the first mainstream 200 MHz system bus," Athlon includes a superscalar pipelining floating point unit, and a programmable L1 and L2. The Athlon uses AMD's aluminum 0.18 micron technology.
Continue Reading About AMD (Advanced Micro Devices)
Dig Deeper on Virtual machine performance management
PRO+
Content
Find more PRO+ content and other member only offers, here.