ESXi Shell
ESXi Shell is a VMware vSphere management tool that performs VMware commands that perform maintenance tasks like network, system, storage and more.
ESXi Shell is a VMware vSphere command-line interface (CLI) for troubleshooting..
Download this exclusive guide to the top 25 ESX and ESXi commands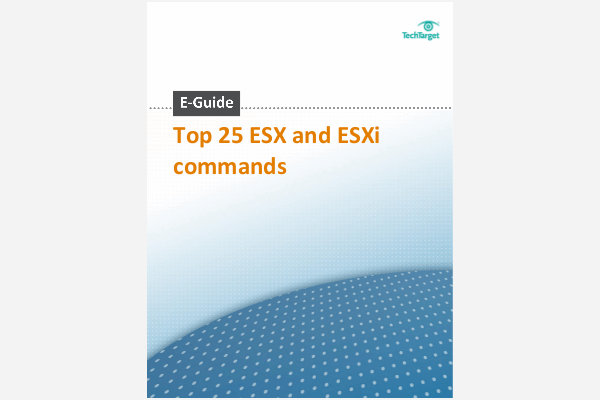 Experts unveil the top 25 best VMware command lines you might not know about or be using incorrectly in this essential resource. Additionally, learn the most useful command lines for your virtualization platform of choice, all in this comprehensive guide.
By submitting your personal information, you agree to receive emails regarding relevant products and special offers from TechTarget and its partners. You also agree that your personal information may be transferred and processed in the United States, and that you have read and agree to the Terms of Use and the Privacy Policy.

ESXi Shell, which was formerly known as Tech Support Mode (TSM), is disabled by default. Only the root user and system administrators can execute system commands using the ESXi Shell.
VMware recommends that administrators install the vCLI page or deploy the vMA virtual appliance to run commands against ESXi hosts. ESXCLI commands that are available in the ESXi Shell are also included in the vCLI package.
PRO+
Content
Find more PRO+ content and other member only offers, here.