VMware vSphere Metro Storage Cluster (VMware vMSC) definition
VMware vSphere Metro Storage Cluster (VMware vMSC) is a configuration option that allows for the use of stretched clusters, meaning that servers within a cluster are spread across geographical locations. This configuration allows organizations to perform load balancing and nondisruptive live migrations between active data centers.
Utilizing snapshots to solve VM management headaches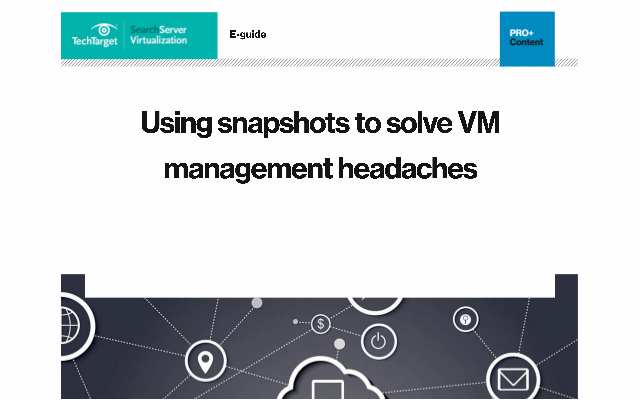 Access this exclusive guide to learn how snapshots can benefit your IT shop by saving you time and resources while reducing management stress. Additionally, find out how to troubleshoot problems that occur when snapshots are used incorrectly.
By submitting your email address, you agree to receive emails regarding relevant topic offers from TechTarget and its partners. You can withdraw your consent at any time. Contact TechTarget at 275 Grove Street, Newton, MA.
You also agree that your personal information may be transferred and processed in the United States, and that you have read and agree to the Terms of Use and the Privacy Policy.

VMware vMSC can give organizations many of the benefits that a local high-availability cluster provides, but with geographically separate sites. This method of stretched clustering (also called distributed clustering) allows an organization to move virtual machines (VMs) between two data centers for failover or proactive load balancing. VMs in a metro storage cluster can be live migrated between sites with vSphere vMotion and vSphere Storage vMotion. This stretched cluster approach is designed for disaster avoidance in environments where downtime cannot be tolerated, but should not be used as an organization's primary disaster recovery approach.
VMware vMSC is only practical for organizations that require active site balancing and very high availability (HA) standards, because the approach requires a high bandwidth, low latency connection between the two sites. The maximum supported network latency between the two sites is 10 milliseconds round-trip time, which limits the geographic distance in which a stretched cluster will work to less than 100 kilometers, in most cases.
VMware vMSC was introduced in vSphere 5.
Continue Reading About VMware vSphere Metro Storage Cluster (VMware vMSC)
PRO+
Content
Find more PRO+ content and other member only offers, here.