virtual private server (VPS) or virtual dedicated server (VDS)
A virtual private server, VPS, also called a virtual dedicated server (VDS), is a virtual server that appears to the user as a dedicated server but is actually installed on a computer shared by multiple Web site owners... (Continued)
Looking for something else?
A virtual private server (VPS), also called a virtual dedicated server (VDS), is a virtual server that appears to the user as a dedicated server but is actually installed on a computer serving multiple Web sites. A single computer can have several VPSs, each one with its own operating system (OS) that runs the hosting software for a particular user.
Download: IT Acronyms - A Quick Reference Guide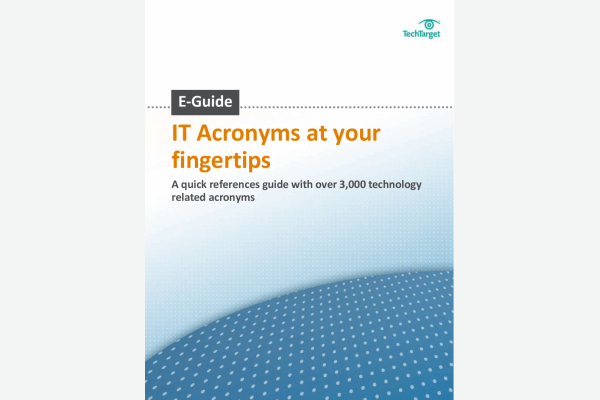 Download this free quick reference guide with over 3,000 IT acronyms; including a special section of the top 15 acronyms you need to know today.
By submitting your personal information, you agree to receive emails regarding relevant products and special offers from TechTarget and its partners. You also agree that your personal information may be transferred and processed in the United States, and that you have read and agree to the Terms of Use and the Privacy Policy.

The hosting software for each VPS can include a Web server program, a File Transfer Protocol (FTP) program, a mail server program and specialized applications for activities such as e-commerce and blogging.
The VPS alternative is often chosen by small businesses that need a customized Web site but cannot afford a dedicated server. Another useful aspect of VPS technology is the ability of a single subscriber to maintain multiple virtual servers. For example a Web site owner might use one server for the production-level Web site and the other for a "dummy site" that can be used to test planned updates, modifications or new programs.
Continue Reading About virtual private server (VPS) or virtual dedicated server (VDS)
Glossary
'virtual private server (VPS) or virtual dedicated server (VDS)' is part of the:
View All Definitions
PRO+
Content
Find more PRO+ content and other member only offers, here.