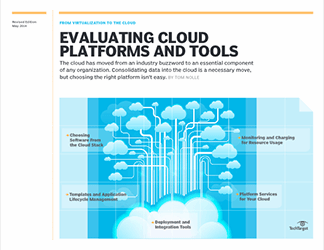 Overview
Many companies have become comfortable with virtualization, which lays the foundation for developing a private or hybrid cloud strategy. But to optimize their infrastructure, IT pros need to understand that a cloud environment has some key differences from an environment that is just virtualized. In this e-book series, we define the cloud and the attributes -- like automation, chargeback and new management tools and strategies -- that take virtualized data centers to the next level. With advice on selecting virtualization vendors and tools that will help in this process, readers will be able to make informed decisions about their virtualization strategy and design a smart architecture for cloud, rather than approaching it on a costly trial-and-error basis.
Chapters Available For Free Access
This chapter provides an overview of major virtual platforms and tools on the market with a focus on building a framework for the cloud. It explains ...

This chapter explores virtual management tools available from major platforms that can streamline management and prepare virtual data centers for the...

Many IT shops need to manage their virtual environments on a tight budget, and increasing pressure to provide private cloud capabilities in the ...
More Premium Content Accessible For Free
E-Chapter

Virtualization admins' top concern is no longer choosing a hypervisor -- it's choosing the right tools that will help with management, improve VM ...

E-Book

As hypervisor features have become more similar, the next vendor battleground will be over management software. Microsoft and VMware have similar ...

E-Handbook

Workload mobility is a key part of virtualization, and it should continue to get better and become a bigger part of an IT admin's everyday operations...