Thank you for joining!
Access your
Pro+

Content below.
March 2014
VM management and capacity prediction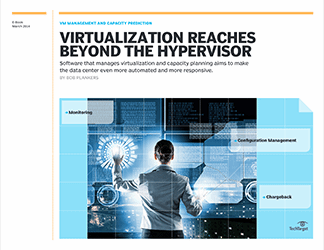 As hypervisor features have become more similar, the next vendor battleground will be over management software. Microsoft and VMware have similar capabilities, and now they'll look to make their products stand out by touting their management tools and complimentary products. Soon, IT pros won't spend time looking at unique features when they compare hypervisors; they will be looking at how an organization can use the hypervisor to improve workflows throughout the data center.
CHAPTERS AVAILABLE FOR FREE ACCESS
Virtualization admins' top concern is no longer choosing a hypervisor -- it's choosing the right tools that will help with management, improve VM performance and make capacity prediction a less painful process. This chapter explains the latest challenges of managing a virtual infrastructure, with insight into the changing virtualization management software landscape.

Download

Admins are gaining better insight into server and VM performance data, but what do they do with it? We are beginning to see a push for tools that can use this data to give admins performance reports and help them improve performance. Tools like CloudPhysics and vCenter Log Insight are both designed to help admins parse VM data and improve performance, security and efficiency. This chapter outlines the best strategies for taking performance data and turning it into useful, actionable information.

Download