Manage
Learn to apply best practices and optimize your operations.
Develop a solid virtualization capacity planning strategy
Introduction
The role of an IT capacity planner isn't entirely unlike that of an oracle. For all intents and purposes, both are expected to predict the future -- the only difference is that rather than prophesy the future of heroes and demigods, capacity planners prophesy the future of the data center. This remarkably less mystical -- yet no less difficult -- task entails using careful calculations to estimate space, hardware and software resources to develop a capacity planning strategy that ensures an IT organization sufficiently meets the workload demands of its end users.
Virtualization further complicates the already daunting task of devising a capacity planning strategy for the data center. Compared to traditional physical servers, virtualized servers consume more resources. Virtualization makes it easy to migrate workloads from one physical server to another, but the process of moving multiple VMs at a time can result in resource shortages. With so many moving parts, it's easy to see how an administrator might face difficulties when provisioning computing resources. It's essential that capacity planners accommodate for the additional challenges virtualization poses when predicting data center needs.
This essential guide helps capacity planners determine what to look for when putting together a comprehensive virtualization capacity planning strategy, how virtualization fits into the picture, what potential problems they might encounter and which tools they should use.
1

Assess data center needs

-
Create a virtualization capacity planning strategy
The benefits of a good virtualization capacity planning strategy are numerous: reduced downtime, less money spent on server and application deployment, easier disaster recovery and, of course, better overall performance. So, how should a capacity planner create such a strategy? Start by assessing the needs of your data center in terms of resource utilization as well as the needs and objectives of your business. This will give you a better idea as to where you should dedicate your time and attention. For more advice on crafting the perfect capacity planning strategy, take a look at the links included in this section.
2

Threats to capacity planning

-
Common virtualization capacity planning challenges
Virtualization presents a unique challenge to capacity planning because virtual servers run multiple workloads simultaneously and consume significantly more compute resources than traditional physical servers. Failing to take this into account when developing a capacity planning strategy can have serious negative consequences. Poor systems management techniques also pose a serious threat to capacity planning, and set even the best-laid plans awry. This section deals with common virtualization capacity planning challenges, how they affect resource use and performance and how to overcome them.

Download this free guide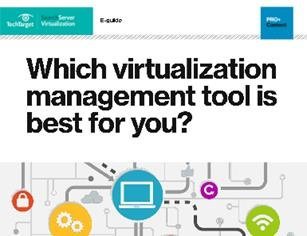 VMware vs. Microsoft vs. Citrix
Download now to compare the top ten virtualization management tool providers including VMware, Microsoft, and Citrix, and see what improvements your organization could make with a virtualization management tool.
By submitting your personal information, you agree that TechTarget and its partners may contact you regarding relevant content, products and special offers.
You also agree that your personal information may be transferred and processed in the United States, and that you have read and agree to the Terms of Use and the Privacy Policy.
3

Improve your strategy

-
Capacity planning management, tools and best practices
Finding the right virtualization capacity planning tool is a tall order -- it has to pull data from physical and virtual servers, make predictions, understand other apps in your data center, navigate common virtualization challenges and more. Even if you find the perfect tool, your work isn't done: You now need to figure out what to do with the data received and how it can help you create a better capacity planning management system. In this section, we'll look at some popular capacity planning and performance monitoring tools and best practices, and how they improve functions in your data center.
4

Glossary

-
What are some key capacity planning terms?
An understanding of what capacity planning is and what it involves is essential to create a solid virtualization capacity planning strategy. Read up on this technology to stay in the know.