Evaluate
Weigh the pros and cons of technologies, products and projects you are considering.
Taking charge of VM allocation, troubleshooting methods
Long-term virtual infrastructure health leads to business growth. To achieve this, you must master capacity planning and troubleshooting techniques.
Introduction
Server consolidation through virtualization saves money, but once you've deployed a virtual environment, the challenge becomes how to manage it and ensure long-term infrastructure health.
Administrators need to be careful to make sure their hardware resources can support the VMs they need to run, and that their environments can scale as workloads increase. As more organizations consider virtualizing mission-critical workloads, and the IT industry shifts toward a software-defined future, getting the highest VM performance will become even more important to admins. When it comes to promoting business growth and success, virtual infrastructure health is key.
Effective data center management must include capacity planning, VM allocation, troubleshooting methods and the right monitoring tools. This guide will cover the basics and more advanced tips so you can optimize server and VM performance.
1

Planning

-
Server capacity planning, VM allocation methods
Capacity planning is arguably the most critical phase of implementing a virtual infrastructure. Your servers will need to support VMs, survive faults and scale up easily, the success of which will depend on proper capacity planning. By learning how to provision servers and VMs using the tools at your disposal, you'll be better prepared to prevent bottlenecks and ensure the long-term health of your data center.
2

Maintenance

-
Tools of the data center management trade
Choosing the proper management and monitoring tools is critical to data center health and business success. The number of tools, applications and software available to admins is staggering, and only continues to grow. Focus on the scale of your infrastructure, as well as your most business-critical workloads when choosing monitoring tools. That way you'll stretch your budget the farthest.

Download this free guide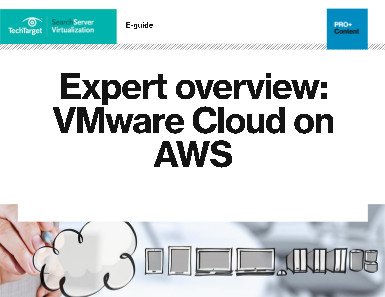 PDF: Experts examine VMware Cloud on AWS partnership
The AWS and VMware partnership is certainly an interesting one, with big changes possibly taking place in both the VM and public cloud markets. Get our experts' first take here.
By submitting your personal information, you agree that TechTarget and its partners may contact you regarding relevant content, products and special offers.
You also agree that your personal information may be transferred and processed in the United States, and that you have read and agree to the Terms of Use and the Privacy Policy.
3

Problem solving

-
Troubleshooting common virtual infrastructure issues
Deploying a virtual infrastructure is hardly a set-it-and-forget-it job. Issues such as VM sprawl, memory and storage shortages and performance bottlenecks can and do occur over time. Virtualization admins, however, can minimize risks by learning what problems can occur, what causes the problems and what safeguards they can put in place to prevent the problems.