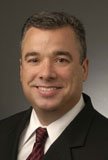 James E. Geis
Ask Jim Geis a question at IT Knowledge Exchange.

As director of integrated solutions development, Jim Geis manages Forsythe solutions focused on server, storage, and desktop technologies. These span x86 virtualization, Microsoft and related desktop technologies, information policy and management, server and storage consolidation and optimization, backup and restore, and data replication and archiving.

Geis developed Forsythe's unique information management framework—the roadmap Forsythe uses for information and storage consulting engagements. This framework combines the people, processes, and technology elements necessary for his team's holistic approach to consulting services including strategic assessments and delivery engagements.

Prior to joining Forsythe, Geis managed the Central region project management office (PMO) at EMC Corporation in Chicago. Previous to his tenure at EMC, Geis served for many years as a system programmer for the National Center for Supercomputing Applications (NCSA) at the University of Illinois, Urbana-Champaign.

Geis has served as an expert source for publications such as AFCOM's Communique, CIO, CRN, Database Trends and Applications, Federal Computer Week, InfoStor, Network World, Storage, and VARBusiness. He has been published in CIO.com, Computer Technology Review, Computerworld, Disaster Recovery Journal, InformationWeek's Storage Pipeline, InfoStor, Storage, and Storage Management Solutions.

Geis earned his bachelor's degree in industrial technology from Eastern Illinois University, Charleston, Ill. He is currently studying for his master's degree in medical informatics at Northwestern University.

Do you have a question for our experts?