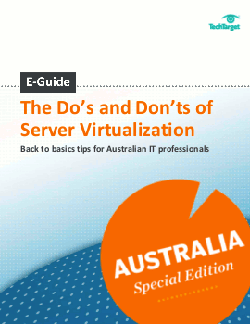 E-Guide: Fundamentals of Server Virtualization 
According to a recent reader's choice survey, 90 % of IT shops in Australia are still planning or expanding virtualization initiatives moving into 2014 – so, it's worth asking, as virtualization touches more and more aspects of your data center, have you mastered the basic tools and techniques that ensure a successful implementation? 
Therefore, the editors at SearchServerVirtualization.com have tailored a comprehensive guide to help IT professionals in Australia gain a deeper understanding of the essential elements of an effective virtualization strategy. 
Register to the right and receive instant access to this expert advice on: 
   • Comparing host vs. bare-mental hypervisor types
   • The top 10 hypervisor technologies
   • 4 mistakes that kill VM performance
   • And additional resources.
This was first published in October 2013