Backup and storage for virtualization
Bronze Award:
CommVault Simpana 9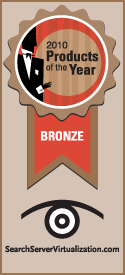 CommVault greatly enhanced Simpana with the release of version 9. The new product has better integration with all hypervisor platforms and an innovative feature set, including support for multiple cloud backup providers, universal deduplication and powerful snapshot support. 
As snapshots become more popular, this feature will provide important backup capabilities for organizations that want to shorten virtual machine recovery times. Simpana 9's strong focus on virtualization integration makes it a compelling choice to back up any virtualized environment, especially when so many enterprises are still struggling to find virtualization-specific backup tools.