Evaluate
Weigh the pros and cons of technologies, products and projects you are considering.
Configuring nodes with open source cluster resource management tools
Open source cluster resource management has cost-effective tools for building high-availability environments.
This three-part series explains step by step how to create a Xen high availability setup with only open source components. Part one covers how to implement an iSCSI storage area network (SAN) through SUSE Linux Enterprise Server (SLES) 11. The second installment explains how to configure a cluster through open source Pacemaker.
Pacemaker, a cluster resource management tool for open source environments, is available as an extension pack for...
Continue Reading This Article
Enjoy this article as well as all of our content, including E-Guides, news, tips and more.

By submitting your personal information, you agree that TechTarget and its partners may contact you regarding relevant content, products and special offers.

You also agree that your personal information may be transferred and processed in the United States, and that you have read and agree to the Terms of Use and the Privacy Policy.

SUSE Linux Enterprise Server (or as a free download in other distributions).

In SUSE Linux Enterprise Server11, you can configure Pacemaker from the Yet another Setup Tool (YaST) utility. Before continuing, though, establish the Secure Shell (or SSH) key-based authentication, synchronize the time and make sure that the names of all cluster nodes can be resolved on every nodes. Also ensure that the Pacemaker High Availability Extension is available on your server. In this article, it's assumed that the ISO file has been downloaded and placed in the SLES 11 file system's root.

Step 1: Start YaST to add a node to the cluster.
In the YaST interface, select Software, then Add-On Products. Next, click Add, then select Local ISO Image. After opening the ISO image, accept the License Agreement and click Next to start the installation. Step 2: Installation
From the Software Selection and System Tasks list, select the High Availability software category and click OK. After installation of the software packages, if the Novell Customer Center Configuration window appears, select Configure Later and then click Next to have it disappear. At this point, you can start the Pacemaker configuration from YaST. Step 3: Configuring the cluster
In YaST, select Cluster from the Miscellaneous tab. Next, from the cluster configuration interface, select the network card address that will handle the cluster traffic (in an ideal situation, this would be an independent network interface). Then, specify a Multicast Address for the cluster – after which, every node configured to this address can join the cluster. Typically, if the multicast address is not already in use, you can use addresses between 224.0.0.0 - 239.255.255.255 . In Figure 1, I use 224.12.13.14 as the multicast address.

Figure 1
To add a node to the cluster, use the same multicast address for each node.(Click image for an enlarged view.)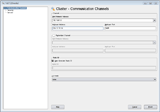 4. Finishing up
To keep the configuration simple, don't configure any security settings. You do, however, have to specify that the service starts automatically when booting in the Service tab. Also, within this tab, click Start OpenAIS now to begin the service immediately. Next, click Finish to write the configuration and start the cluster services on this node. To confirm it's operational, open a command prompt with root permissions and issue the crm_mon -i 1 command. At this point, the node should appear online.
Listing 1: Use crm_mon -i 1 to confirm that all cluster nodes you've configured are online
node2:~ # crm_mon -i 1
============
Last updated: Fri Sep 25 11:27:11 2009
Current DC: node1 - partition with quorum
Version: 1.0.3-0080ec086ae9c20ad5c4c3562000c0ad68374f0a
2 Nodes configured, 2 expected votes
0 Resources configured.
============
Online: [ node1 node2 ]

Finally, the cluster is fully operational. At this point, repeat this process on all the nodes that you want to add. When setting up a high-availability environment, the last step is to create the resources that will manage Xen virtual machines . We will cover this step in part three of this series.

Sander van Vugt is an independent trainer and consultant based in the Netherlands. Van Vugt is an expert in Linux high availability, virtualization and performance and has completed several projects that implement all three. He is also the writer of various Linux-related books, such as Beginning the Linux Command Line, Beginning Ubuntu Server Administration and Pro Ubuntu Server Administration.

Dig Deeper on Virtualized clusters and high-performance computing
PRO+
Content
Find more PRO+ content and other member only offers, here.