Evaluate
Weigh the pros and cons of technologies, products and projects you are considering.
Install XenServer and use XenCenter for configuration
In the open source arena, there are many options for Xen, but XenServer includes the XenCenter management console. Read these expert tips before installing it.
Although there are several Linux distributions for Xen, including Oracle Unbreakable Linux and SUSE Linux Enterprise...
Continue Reading This Article
Enjoy this article as well as all of our content, including E-Guides, news, tips and more.
By submitting your personal information, you agree that TechTarget and its partners may contact you regarding relevant content, products and special offers.
You also agree that your personal information may be transferred and processed in the United States, and that you have read and agree to the Terms of Use and the Privacy Policy.
Server, you also have the option to install XenServer, which is a more comprehensive open source tool.
XenServer's history
XenServer is based on Xen, an open source technology created at the University of Cambridge. Xen was adopted by Linux, but the founders of the project also created XenServer, which was later purchased by Citrix.
In its current state, XenServer is an open source project, but if you want to run a supported version of it, you can purchase it. Citrix offers two options: XenServer Standard and XenServer Enterprise. The only difference between these two is in the level of support Citrix provides. To install either of them, you'll have to download the same ISO file.
Compared to Linux-based Xen stacks, which often lack the appropriate management tooling, Citrix XenServer not only includes the XenServer host itself, but also the XenServer console. The XenServer console is a Windows-based client that allows you to manage VMs running on multiple XenServer hosts that are organized in a pool of available resources.
Install XenServer
Compared to Linux-based Xen stacks, which often lack the appropriate management tooling, Citrix XenServer not only includes the XenServer host itself, but also the XenServer console.
To create a complete setup, go to xenserver.org, and download the ISO file to install the hypervisor and the management application available for Windows. If you want to test XenServer, you can download the current version 7.2 for free and install it on any computer that has at least 2 GB of RAM, 46 GB of disk space and a CPU that runs at a minimum of 2 GHz and supports hypervisor extensions. Although this will be sufficient to start the installation program and install the software, it won't bring you a smoothly running system, which requires at least double the amount of resources mentioned.
It's relatively easy to install XenServer. Essentially, it's based on the installation program used by older versions of Red Hat Enterprise Linux, but it also includes Citrix-specific items. When setting up the host, specify which disk to use and how to address this disk. Choose thin provisioning if you want to optimize the host for usage with XenDesktop or accept the defaults if you want to run the virtual server manually.
After you install XenServer, you'll get access to the administration desktop running on the XenServer host. From this desktop, you can manage different parts of the configuration, like networking, available storage and VMs. However, you won't be able to install VMs that will be running on the host. To do this, you'll need a Windows PC with the XenServer management console, also known as XenCenter.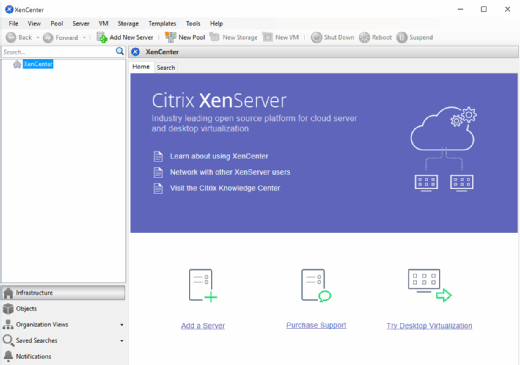 XenCenter offers a well-organized graphical client for managing XenServer. It allows you to add multiple XenServer installations that will be presented as a pool of available resources. On this pool, you can install VMs, as well as other resources, like the storage that can be used by those VMs. The XenCenter management console is available for free, as is the case for XenServer, and it offers an enterprise-level management console that can compete with VMware vCenter.
Dig Deeper on Citrix XenServer
PRO+
Content
Find more PRO+ content and other member only offers, here.