Evaluate
Weigh the pros and cons of technologies, products and projects you are considering.
Which virtualization management tools should you buy?
There are several automated virtual server management tools on the market, but which should you choose? In this tip, an expert examines some of these tools and explains what you should keep in mind when purchasing one.
This is the final installment in a series of three tips that examine the challenges administrators encounter as they attempt to scale and manage their virtual infrastructures. The first installment explored issues of virtual server sprawl; the second addressed the challenges of manual provisioning and the complexity that comes with it. This third tip presents examples of specific virtual management technologies, including what to consider when making a purchase decision.
Continue Reading This Article
Enjoy this article as well as all of our content, including E-Guides, news, tips and more.

By submitting your personal information, you agree that TechTarget and its partners may contact you regarding relevant content, products and special offers.

You also agree that your personal information may be transferred and processed in the United States, and that you have read and agree to the Terms of Use and the Privacy Policy.

A new class of management technologies has emerged to help administrators overcome challenges as they scale a growing virtualized infrastructure. Called virtual infrastructure management, lifecycle management, policy-based management and orchestration applications, these virtualization management tools go beyond the capabilities of hypervisor-based element managers to solve many of the problems associated with fast-growing virtualization environments. In this article, I look at the functionality of these tools to manage a virtualized infrastructure and offer a list of capabilities that you should consider when purchasing a virtual management product.

Virtualization management tools and their functionality
Core virtualization platform providers -- Citrix Systems, Microsoft and VMware --- provide hypervisor element management tools, and traditional system management vendors -- BMC Software, CA, Hewlett-Packard and IBM --- have begun to adapt their tool sets to manage virtualized infrastructure. In addition, the following vendors provide products that address virtual infrastructure management issues:


Virtualization management product selection considerations
When evaluating virtual infrastructure management technologies, users should consider products with the following capabilities:

A high level of scalability. In enterprise shops, the number of virtualized servers has grown rapidly, and as organizations begin to virtualize large numbers of desktops,the need for robust and scalable virtual management capabilities becomes even greater. So the technology you purchase should be able to manage multiple hypervisors and scale hundreds of physical servers, thousands of desktops and dozens of virtualization management instances.
Open and extendable architecture. Given the growing diversity of virtualization products on the market, a virtualization management tool must provide support for multiple vendors and technologies. This includes major hypervisors, connection brokers, OSes and application deployment offerings. The product must have interfaces that allow easy integration into customers' existing management ecosystems, and should provide a common interface and set of processes for managing physical and virtual infrastructure. The product should also include open interfaces for integrating with major enterprise software systems, such as configuration management databases (CMDBs) and other IT management packages.


Powerful, flexible workflow. The virtualization management offering must be policy driven and provide workflows that can be extended and customized to fit an end user's needs. The workflow engine should be able to automate the execution of manual, repetitive tasks that are required to provision and manage a virtual infrastructure.
Ease of use and administration. The management technology should provide users with a self-service portal to provision and manage their own virtual servers and provide administrators with a visual dashboard and array of reporting capabilities. The tool should also offer a set of pre-defined, out-of-the-box templates and workflows.


What will the future bring?
Looking ahead, the Taneja Group believes that the next generation of virtualized infrastructure management technologies will enable users to increase IT productivity further by spanning physical and virtual infrastructures while enabling the management of all IT resources (see Figure 1). Resources include servers, memory, networks and storage -- from a single, unified interface.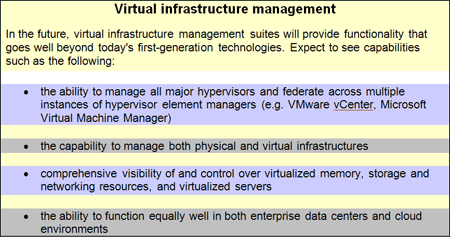 Figure 1: The future of virtual infrastructure management
Fortunately, virtual server administrators don't have to wait for relief from issues that can severely hamper a virtual infrastructure such as sprawl, manual provisioning and administrative complexity. This new generation of automated technologies we have outlined can bring immediate relief to embattled administrators working with VMware infrastructure and other server virtualization environments.
ABOUT THE AUTHOR: Jeff Byrne is a senior analyst at the Taneja Group, an analysis and consulting group focused on storage and storage-centric server technologies with a concentration in the developing area of virtualization. Byrne can be reached at jeff.byrne@tanejagroup.com.
And check out our Server Virtualization blog.

Dig Deeper on Virtual machine performance management
PRO+
Content
Find more PRO+ content and other member only offers, here.