Microsoft Hyper-V Guide
Hypervisor-based virtualization in Microsoft's newest offering promises features that will enhance virtual infrastructures. Learn more about the new virtualization platform in this introductory guide to Hyper-V.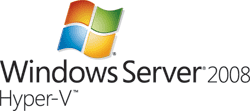 Hyper-V is the latest virtualization product from Microsoft. The new hypervisor platform works with Windows Server 2008 to create and manage a virtual infrastructure. As with any virtualization platform, Hyper-V makes for a more efficient data center, maximizing resources and reducing costs.
Continue Reading This Article
Enjoy this article as well as all of our content, including E-Guides, news, tips and more.
By submitting you agree to receive email communications from TechTarget and its partners. Privacy Policy Terms of Use.

Hyper-V consists of a 64-bit hypervisor that can run 32-bit and 64-bit virtual machines concurrently. Hyper-V virtualization works with single and multi-processor virtual machines and includes tools such as snapshots, which capture the state of a running virtual machine.
Hypervisor-based virtualization with Microsoft's newest offering promises more efficient virtual machine hosting as well, with new "synthetic" drivers.
For more information on Hyper-V, consult the resources in this introductory guide.
Introduction to Hyper-V
Take a tour of Microsoft's Hyper-V Windows 2008 virtualization architecture
Anil Desai describes the technical architecture of Microsoft's Hyper-V.
In the Microsoft Hyper-V model, a hypervisor layer runs directly atop the physical server hardware. All of the virtual partitions communicate with hardware through the hypervisor, which is a very small and efficient set of code for coordinating these calls.
Hyper-V includes a minimal microkernel architecture which allows multiple partitions to access the same physical hardware resources. Keeping the hypervisor small helps decrease the security attack surface and helps keep things efficient.
In order to take full advantage of the Hyper-V architecture, guest OSes can use what Microsoft calls "enlightenments". An enlightened guest OS is designed with virtualization in mind and can communicate efficiently with the hypervisor.
Installing Hyper-V
Install Microsoft Hyper-V with this guide
The following screencast will talk you through the steps required to get up and running with Microsoft's virtualization services in Hyper-V. The demonstration will use the release version of Windows Server 2008, which includes Release Candidate 1 of Hyper-V. You'll learn about prerequisites, system requirements and using Server Manager to install and verify the Hyper-V server role.
Hyper-V virtual machines
Learn how to create and configure virtual machines in Microsoft's latest virtualization platform, Hyper-V
Hyper-V in Windows Server 2008 gets its own Microsoft Management Console (MMC)-based administration tools. If you have used Web-based configuration utilities in the past, this will probably be a very welcome change. The Hyper-V manager also includes a new virtual machine (VM) wizard which walks you through the steps of creating a new VM.
You can modify the settings of a VM by right-clicking on it in the Hyper-V manager and selecting "Settings." The left side of the interface includes the usual suspects, including disk, memory, network and removable media options.
Hyper-V supports the migration of virtual machines that were created in Microsoft Virtual Server 2005 and Microsoft Virtual PC, and includes a built-in method for connecting to and working with VMs.
This screencast shows you how to create, configure and manage your virtual machines with Microsoft Hyper-V
Once you have installed Hyper-V on Windows Server 2008, you'll need to perform several steps to create, configure and start your virtual machines. This screencast will walk through those steps, including Hyper-V server settings, virtual machine virtual hardware configuration settings and basic virtualization operations.
Hyper-V management
Learn the tools used in managing virtual hard disks in Hyper-V
The flexible virtual storage architecture of Hyper-V maximizes physical space and optimizes performance for creating and managing VHDs. This tip covers the different types of VHDs and explains how to work with them using Management Console, virtual hard disk wizard and other Hyper-V tools.
The bulk of any virtual machine is made up of virtual hard disks (VHDs), which are large binary files that must be stored, maintained and backed up. Fortunately, most virtualization platforms provide you with several methods for creating and managing virtual storage based on the needs of a particular workload.
In Hyper-V, you can easily create new VHDs, manage their settings and attach them to VMs. The Hyper-V Management Console provides everything necessary to perform these basic tasks, but it's important to understand the options available and their potential ramifications. This tip describes the steps that are required to create and manage all types of VHDs – dynamically expanding, fixed sized and differencing disks -- along with some performance-related recommendations.
Learn about installation and system requirements for Microsoft's Hyper-V
To get started, you'll need to download and install a copy of Windows Server 2008. You can download the bits for free from Microsoft's Windows Server 2008 Evaluation Web site.
The system requirements for Hyper-V are far from ordinary, and this is the toughest hurdle for those that don't have dedicated test environments: Your standard desktop machine might not meet the system requirements (64 bit system, updated Microsoft OS requirements and hardware-assisted virtualization extensions are some of them.)
Server Manager is the new "command central" for managing your server. Using the Add Roles and Add Role Services features, you can easily configure the OS with the features you need. And, yes, you can install many (or all) of them at the same time. Then once you restart the computer the installation process is complete.
Snapshots with Hyper-V are easy to use and make backup a snap
Point-in-time archives are a snap in Hyper-V with the new snapshot tool. Learn how to use the easy-to-use feature in the Management Console to create hierarchies of VM configuration changes.
In order to record the complete state of a virtual machine, you need many different pieces of information. While it is possible to backup all the necessary files and settings manually, the process can be a tedious and error-prone one. A Hyper-V snapshot includes all of the information and data that is required to roll back the status of a VM to a previous point-in-time. This includes:
Virtual Machine configuration settings (the contents of the .vmc file) Virtual network settings The current state of all virtual hard disks (VHDs) that are attached to the VM Saved state information for the VM (if applicable)
Best of all, you don't need to do anything special to enable snapshots. As long as you have a Hyper-V VM, you can use this feature.
Find out what's new with partitions and device drivers in Hyper-V
With Hyper-V's device driver options, you can get greater virtual machine performance without sacrificing OS compatibility. Learn about features that make Microsoft's platform more manageable.
A virtualization layer provides independent, isolated environments in which guest operating systems and applications can run. Hyper-V uses the term "partition" to refer to these areas, such as root, parent and child partitions.
Hyper-V seeks to provide the best possible driver performance to minimize virtualization-related overhead and compatibility with the widest array of potential guest operating systems. Because these goals are sometimes at odds, Hyper-V provides two different types of drivers: emulated and synthetic.
Emulated devices rely on the same types of drivers that are available in Microsoft Virtual Server 2005 and Microsoft Virtual PC. Synthetic drivers are new in Hyper-V and are designed to provide improved performance. They are able to leverage more efficient communications mechanisms between virtual hardware and physical hardware.
More on Hyper-V
Virtualization on a laptop with Hyper-V has it's pros and cons.
Running a virtual machine off a laptop with Microsoft Hyper-V gives users a "travel sized" hypervisor, if you will. But the convenience of a portable virtualization demo is not without drawbacks.
Creating a laptop-ready virtualization demo with Microsoft's Hyper-V involves a bit less preparation than with ESX. Due to Hyper-V sitting atop Microsoft Windows, there isn't the same need to create a hypervisor-in-a-hypervisor situation on your laptop. Upon installation, Hyper-V's primary partition immediately becomes the OS instance you use as your primary laptop instance.
But before you throw away your overpriced Vista OS for an even more expensive Windows Server 2008 instance, consider a few gotchas that you might see during the conversion.
Microsoft's Hyper-V will enter the virtualization ring as a relative underdog. But Hyper-V's price and better hardware compatibility poise it to compete with VMware and Xen.
So what's so great about Hyper-V? Perhaps the most obvious answer is price. Microsoft will be providing its new hypervisor at very little cost and it will be a few clicks and a reboot away for the vast majority of new server deployments. The vast array of features makes Hyper-V a great value, comparable to VMware's offering.
In order to compete successfully, VMware will have to lower pricing and it will have to add more robust, integrated management tools.
The bottom line: The hypervisor is only one portion of the overall virtualization equation and it is becoming a smaller part. Microsoft will dramatically lower the barrier for entry by providing an inexpensive hypervisor and the tools to manage it.
Dig deeper on Microsoft Hyper-V and Virtual Server