Get started
Bring yourself up to speed with our introductory content.
Virtualization problems: When good deployments go bad
So you've rolled out virtualization and things are going smoothly. Think you're in the clear? Not so fast. Virtualization problems can strike at any time, and for many reasons.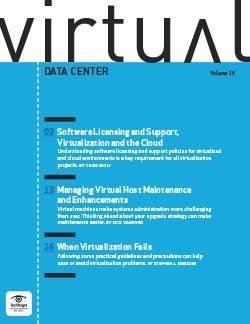 Download
Virtualization problems still exist, even though the technology has become an important and reliable tool in many...
Continue Reading This Article
Enjoy this article as well as all of our content, including E-Guides, news, tips and more.

By submitting your personal information, you agree that TechTarget and its partners may contact you regarding relevant content, products and special offers.

You also agree that your personal information may be transferred and processed in the United States, and that you have read and agree to the Terms of Use and the Privacy Policy.

data centers. New deployments can easily run into virtualization problems without proper planning, practiced skill sets and careful management.

Upgrading or extending an existing virtual infrastructure can introduce performance and stability problems. Virtualization can even exacerbate the effects of an inevitable hardware fault.

Ultimately, the many advantages of virtualization must be weighed against the threat of potential problems. Let's look at the potential virtualization problems and examine some possible solutions.

The articles in this guide originally appeared in the Virtual Data Center e-zine.

How workload balancing prevents virtualization problems
With virtualization, there's always the temptation to load physical servers to 100% utilization. But overloaded servers can hurt application performance and impede failover efforts when disaster strikes. Proper workload balancing can eliminate these problems before they strike.

How to prevent data loss and downtime
Most virtualization problems lead to data loss, even if it's only temporary. Rigorous planning and testing before deployment can help prevent data loss, but sometimes that's not enough. High-availability technologies and disaster recovery strategies can provide an extra layer of protection to ensure against data loss and application downtime.

Curbing VM sprawl with server capacity planning
One of the most common virtualization problems is the uncontrolled proliferation of virtual machines (VMs), called VM sprawl. When VMs are running amok in your infrastructure, they drain processing power and take up valuable real estate on physical servers. Server capacity planning and virtualization lifecycle management are two proven ways to address VM sprawl.

Hardware compatibility issues lead to virtualization problems
An often-unforeseen problem with virtualization deployments is hardware compatibility. Even seemingly little things like USB drives can cause compatibility issues that will affect your entire infrastructure. Virtualization abstracts the OS and applications from hardware, and that means any hardware-dependent software can bring about problems.
Dig Deeper on Downtime and data loss in virtualized environments
PRO+
Content
Find more PRO+ content and other member only offers, here.