Installing Microsoft Hyper-V: A screencast
Watch this screencast and learn exactly how to install Microsoft Hyper-V using Microsoft Windows Server 2008.
The following screencast will talk you through the steps required to get up and running with Microsoft's virtualization services in Hyper-V.
Click to watch the screencast!
(Please be patient, the screencast may take a minute to load)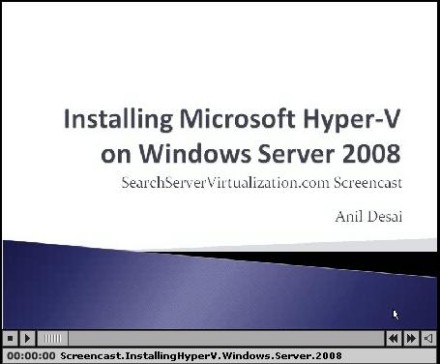 The demonstration will use the release version of Windows Server 2008, which includes a beta of Hyper-V. You'll learn about prerequisites, system requirements and using Server Manager to install and verify the Hyper-V server role.



About the speaker: Anil Desai is an independent consultant and IT book author who has managed datacenter environments that support thousands of virtual machines. Anil is an MCSE, MCSD, MCDBA and a Microsoft MVP (Windows Server -- Management Infrastructure).

Learn more about Microsoft Hyper-V:

Microsoft Hyper-V virtualization: Installation and system requirements
This tip describes requirements for testing Hyper-V, giving a first-hand view of the product itself. The advice is based on my experiments on the pre-beta version.
Creating Microsoft Hyper-V virtual machines
After installing Hyper-V on a compatible machine, you need to get started with creating and configuring new virtual machines. This tip present the steps required to configure the server and to create and import virtual machines.
Inside Microsoft's Hyper-V Windows 2008 virtualization architecture (formerly Viridian)
Learn about the technical architecture of Microsoft' Hyper-V (formerly Viridian) and what this means for IT organizations.
Dig Deeper on Introduction to virtualization and how-tos