Private cloud computing tutorial: An introduction to private clouds
Private cloud computing is a convoluted topic, and the best way to deploy private clouds is debatable. To provide clarity, this private cloud computing tutorial covers the basics.
Private cloud computing is an amorphous concept, with differing opinions on what constitutes a private cloud and what technologies to use to build one. And for many organizations that are still building out their virtual infrastructure, the hype is outpacing reality.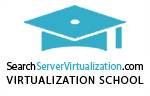 To help provide clarity, this tutorial on private cloud computing -- part of our Virtualization School series -- covers the following topics:
the characteristics of a private cloud
the differences between virtualization and private cloud infrastructures
strategies for implementing a private cloud
After completing the lessons below, you can take a short quiz to test your knowledge on private cloud computing.
Virtualization School: Private cloud computing


Lesson 1: Private cloud 101: Is your data center ready?


By Eric Siebert, Contributor

If you're considering a move to a private cloud, you must assess several factors. Often, hypervisor vendors provide cloud capabilities through virtualization feature add-ons, such as live migration, load balancing and high availability. Also during the assessment process, identify which applications should be virtualized. Not every application benefits from virtualization, and some aren't worth the expense.

Lesson 2: Is virtualization cloud computing?


By Mark Vaughn, Contributor

Virtualization and cloud computing have a lot in common, but they're not the same thing. Private cloud computing can exist without virtualization, but those configurations are rare, costly and complicated. In most configurations, private cloud and virtualization components are complementary. In other words, virtualization is a key facet of private cloud implementations, but a cloud is a technological hodgepodge that provides a variety of services.

Lesson 3: Adopting a private cloud strategy


By Lynn Haber, Contributor

The transition to private cloud computing does not occur overnight. Private clouds consist of several layers of technology and management, so you must thoroughly plan before starting the implementation process. The impact of a private cloud extends well beyond the IT department, and it may bring changes in corporate culture and business relationships. Before you make expensive investments, develop a private cloud adoption strategy.

Quiz: Private cloud computing
Tests are a sad reality of any course, even if it's from a non-accredited institution like our Virtualization School. But if you've read the previous lessons, you should ace this quiz on private cloud computing. At the end of test, you'll receive your score and additional resources on private clouds.
More on private cloud computing resources


Dig Deeper on Server consolidation and improved resource utilization