Virtualization storage tutorial: Storage for virtual environments
Choosing the right storage for virtual environments involves lots of factors. This virtualization storage tutorial covers performance, disaster recovery and other considerations.
Virtualization storage is a must-have for a successful server virtualization deployment.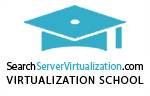 In this virtualization storage tutorial, part of our Virtualization School series, you'll learn all about the different factors to consider when choosing storage for virtual environments. The performance, scalability, energy efficiency and disaster recovery benefits of a virtualization storage platform are all key factors to consider when deciding if it's the right fit for your organization.
Successful storage for virtual environments also depends on hypervisor compatibility and rigorous testing. Find out how to choose the best virtualization storage with these three lessons, which include two written tips and a podcast.
After completing the lessons in this virtualization storage tutorial, you can take a quiz to see how much you know about choosing storage for virtual environments.
Virtualization School: Virtualization storage


More virtualization storage resources