News
Stay informed about the latest enterprise technology news and product updates.
A look at VMware's lobbying efforts
VMware always gets IT people talking, but on Capitol Hill, the company is pretty quiet.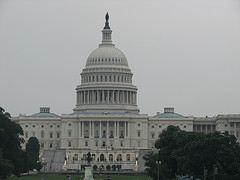 Today I stumbled across a Hewlett-Packard blog post about how much money certain IT vendors spent on federal government lobbying in the first quarter of this year. Most vendors on the list — IBM, Oracle, Microsoft, HP, Intel, etc. — spent somewhere in the neighborhood of $1 million to $1.5 million. But the company I was most interested in, VMware, wasn't mentioned, so I looked it up myself.
VMware has only spent a fraction of that much in the past year, let alone in one quarter. The virtualization leader spent $40,000 in the first quarter of 2011 with lobbying firm Van Scocoy Associates, all to lobby the Senate Office of Management and Budget on "cloud computing issues." And for the past four quarters, VMware has spent just $180,000, all with Van Scocoy.
VMware has also lobbied the full Senate, the House of Representatives and the Army in the past year. Here's a list of the company's other lobbying topics over that time:
energy-saving technology for military installations, Department of Energy laboratories and General Services Administration facilities
"IT related initiatives"
the Energy and Water Development and Related Agencies Appropriations Act
"governmentwide related issues"
"IT consolidation related initiatives"
Despite VMware's huge growth and popularity, the company is still a relative niche vendor in IT, which is probably why its lobbying is so limited. Expect that to change as the company expands into new areas, especially the cloud, and has to deal with issues around privacy, piracy and patents — areas where competitors such as Microsoft and Google have spent millions in Washington.
Photo (cc) by keithreifsnyder on Flickr and republished here under a Creative Commons license. Some rights reserved.