News
Stay informed about the latest enterprise technology news and product updates.
Forging past the server incrementally
Today marks an host-oric day, as the first virtual desktops are ready in the lab for my most forward-thinking users (and, as temporary machines, any who happen to suffer hardware failure). As my company is a mid-sized firm, taking this plunge is a bit of "bleeding edge" for us, but it's too promising to pass up. The early test environment was pretty basic – a few desktops with souped up memory, CentOS 4, VMware Server, and our XP build. First a side-note on CentOS – I love CentOS because it's almost 100% binary compatible with Red Hat Enterprise Linux. In fact, it's compiled from their SRPMs, with the copyrighted materials (the logo, some artwork, etc.) removed. On the client-side, ThinStation or any of the other many thin-client linux distros meant to communicate via RDP will work just as well (perhaps better). The roots of this initiative lie in my wanting to have my XP desktop available from where I was — my Macbook Pro, My Freespire 2 desktop, or my Vista desktop. All have desktop virtualization on them, but since they don't all have the "same" products, mounting a share somewhere wasn't going to work — and performance might be a bit… underperforming.

Download this free guide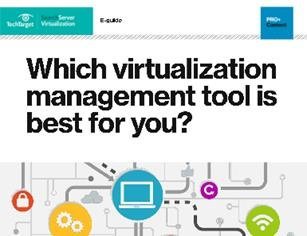 VMware vs. Microsoft vs. Citrix
Download now to compare the top ten virtualization management tool providers including VMware, Microsoft, and Citrix, and see what improvements your organization could make with a virtualization management tool.
The best route was to have it available via RDP. I also wanted to build virtual desktops rfor users. The result, to kill an old commercial's memory, is that VMware got their peanut butter in my chocolate, or I got my chocolate in VMware's peanut butter. Either way, I liked the results. It was simple enough to do, and it performed well under even the limted circumstances. Best of all, it's not complicated to manage. ESX and VirtualCenter more than did the job (though I thinkg a fortune 500 would have need for enhanced management tools, if only for filtering and tracking users to desktops).
After that worked out well for me, I started trimming it back to a more common user-centric desktop build as opposed to the IT-Centric build, taking temporary desktop replacement as a start-in point. The big first was security, while limiting complexity ran a close second. Thanks to AD's Group Policy handling profile and folder redirection, there's really no perceivable difference between the user's original computer and the server-hosted VD. When their PC is fixed, they get it back, and we move on to the next broken-box situation.
The VD solution proved its value there, beating our 2X application server thin-clients (which fared well, but less well than VDs because of the difference in user experience between a linux desktop running a full-screen browser and an XP PC). The next step is to see if we can make this permanent. So, a few IT-savvy first-adopter types are going to get some very old PCs with some very new tricks. I can't wait…