News
Stay informed about the latest enterprise technology news and product updates.
Microsoft – Time to put up or shut up
Having seen a lot of anti-VMware propaganda coming out of the Microsoft marketing machine lately, it strikes me that Microsoft is desperate to do anything to try to catch up and compete with VMware. One example is the VMwareCostsWayTooMuch.com website, which it recently launched in conjunction with passing out $1 chips and flyers at VMworld. What's next, Microsoft? Late-night TV infomercials on Hyper-V proclaiming its greatness? You might see if George Foreman is available — you could call it the lean, mean, cost-reducing virtualization machine.

Download this free guide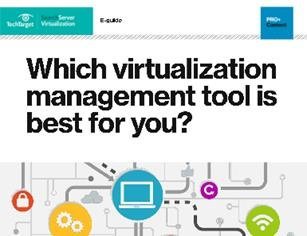 VMware vs. Microsoft vs. Citrix
Download now to compare the top ten virtualization management tool providers including VMware, Microsoft, and Citrix, and see what improvements your organization could make with a virtualization management tool.
Microsoft's tactics strike me as childish. Instead of trying to mislead people, the company should spend its time and money making a product that can actually compete with VMware. Microsoft tries to push the cost issue without looking at the big picture numbers and the features you get with each product. VMware costs more because you get more with it; you get a proven, mature and feature-rich product with many integration, management and automation components.
Microsoft is way behind in the enterprise virtualization game and has a lot of catching up to do. VMware's recent announcements at VMworld puts Microsoft even farther back in VMware's rear-view mirror. Microsoft should be doing everything it can to polish its 1.0 product and add some of the many features and functionality that ESX already has. Good products tend to speak for themselves. Once Microsoft has a product that can stand up to ESX, it won't be forced to sink to the guerilla marketing level to sell its product. I guess at this point Microsoft has to do everything it can to try and achieve global domination of the virtualization market. Maybe it's time for VMware to start its own website, along the lines of HyperVLacksFeatures.com — but then again, why sink to Microsoft's level?