News
Stay informed about the latest enterprise technology news and product updates.
Most Red Hat KVM customers are VMware users
BOSTON — Red Hat Enterprise Virtualization (RHEV) has about 500 customers worldwide, and more than half are existing VMware users.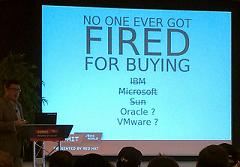 That's the word from Red Hat product marketing manager Chuck Dubuque, who talked about the company's customer base during a RHEV overview session this afternoon at the Red Hat Summit.
"We also have customers who have a lot of VMware," he said. "That's actually the majority of our customers right now."
These VMware users are looking for more affordable alternatives to virtualize more of their infrastructure, he said.
"One of the major issues comes down to cost," he added. "VMware is a fairly expensive product, and there are lots of applications in my environment that I'd like to virtualize that I can't at $3,000 a socket."
About two-thirds of RHEV users are existing Red Hat customers (either Red Hat Enterprise Linux or JBoss), Dubuque said. And in addition to the 500 customers, there are another "couple hundred" active proof-of-concept deployments, he said.
Dubuque also previewed RHEV 3, which will come out by the end of the year.