News
Stay informed about the latest enterprise technology news and product updates.
Open source hypervisors face an uphill battle
VMware vs. Microsoft is the hot debate in virtualization these days, but what about proprietary vs. open source hypervisors?
Forrester Research has an interesting take on that topic. The firm's new report, "Are Open Source Hypervisors Viable for You?" says the recession will drive more businesses to consider open source virtualization. I'm not sure I agree.
In most other technology markets, the "open source is free/cheap, and more people want free/cheap things when the economy is bad, so more people want open source" argument holds up. But to paraphrase Allen Iverson, we're talking about virtualization! Not other markets. Not other markets. We're talking about virtualization!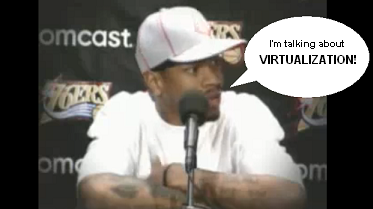 Sure, the open source hypervisors by Citrix Systems and Red Hat — the two noted in Forrester's report — fit the free/cheap mold, but their proprietary competitors do too. VMware has a free version of ESX Server, and Microsoft Hyper-V comes free with Windows Server 2008. So that so-called advantage is out the window. And from there, open source hypervisors are fighting an uphill battle.
According to Forrester, 81% of virtualized businesses run VMware, and 47% run Microsoft. The numbers for Citrix and Red Hat are 25% and 17%, respectively. That is quite the lead. And as more vendors get into the open source hypervisor market — another growing trend — they may end up cannibalizing each other instead of ganging up on the Big Two, Forrester says.
An open source hypervisor could rise up and challenge VMware and Microsoft with the right backing behind it. Oracle and Sun Microsystems both offer open source hypervisors, and as I wrote after last week's big deal, the combination of their other hardware and software offerings gives them quite the end-to-end management story.
But Oracle/Sun is the $7.4 billion exception, not the rule.