News
Stay informed about the latest enterprise technology news and product updates.
Proxmox PVE offers VM mash-up for the virtualization market
The mashup market is for more than just those out there making rich-media web apps. They've taken the concept of the mashup to the virtualization market. The resulting product is a mash-up of two virtualization platforms, OpenVZ and KVM, which Proxmox has combined into a delightful new offering that will run just about any operating system as a virtual machine. Virtual appliances are also included in the mashup.
Like VMware VI, VirtualIron and XenServer, Proxmox Virtual Environment (PVE) is a bare-metal, type-1 hypervisor that installs onto a fresh server and turns the machine into a dedicated virtualization host. It is an open source product based on open source products, making it transparent to developers, and thereby it has all the advantages and disadvantages associated with OSS deleopment projects (I find few disdadvantages myself, but I'm admittedly biased because I think that the transparency of OSS is highly valuable.) The goal, outlined in their vision page, is to create an enterprise-class virtualization platform that affords unparalleled flexibility (my words, not theirs.)
The short-list of what PVE supports:
Web-based Administration via SSL
Bare-metal installation based on Debian Etch (64-bit)
Your choice of Container-based (OpenVZ) or Fully-Virtualized (KVM) virtual machines, both on the same server, as well as Paravirtualization for Windows via AMD/Intel CPU extensions and KVM's built-in ability to handle them.
Built-in backup and restore
Live and offline migration
This is one of those will-be-great-if-it-lives products. It has a lot going for it, particularly in the ability to manage multiple types of virtualization platform strategies. That said, there are still many drawbacks, as expected of a pre-1.0 release (currently at 0.9). As such, it's got it's share of issues to get through before it's really ready.
PVE currently doesn't seem to have much in the way of granular user management for the web interface (though the forums do state that it is on the roadmap). Physical-to-virtual (P2V) capabilities are still a little raw, without any in-house tools to handle migrations. The Wiki site for PVE does explain how to use existing tools such as vmzdump, VMware Converter, etc. to migrate servers into formats that PVE can handle. There's nothing in the way of DRS/HA equivalents, and while PVE does have tools for Live Migration, they don't work due to a"kernel error", according to the Wiki. KVM backup is limited to using LVM2, whereas OpenVZ has that option as well as vzdump, though a tool for KVM on the roadmap for 1.0. Guest SMP is described as unstable, as well.
The cluster management feature looks a little like this image, from their website:

The more day-to-day function of creating a new virtual machine looks like this: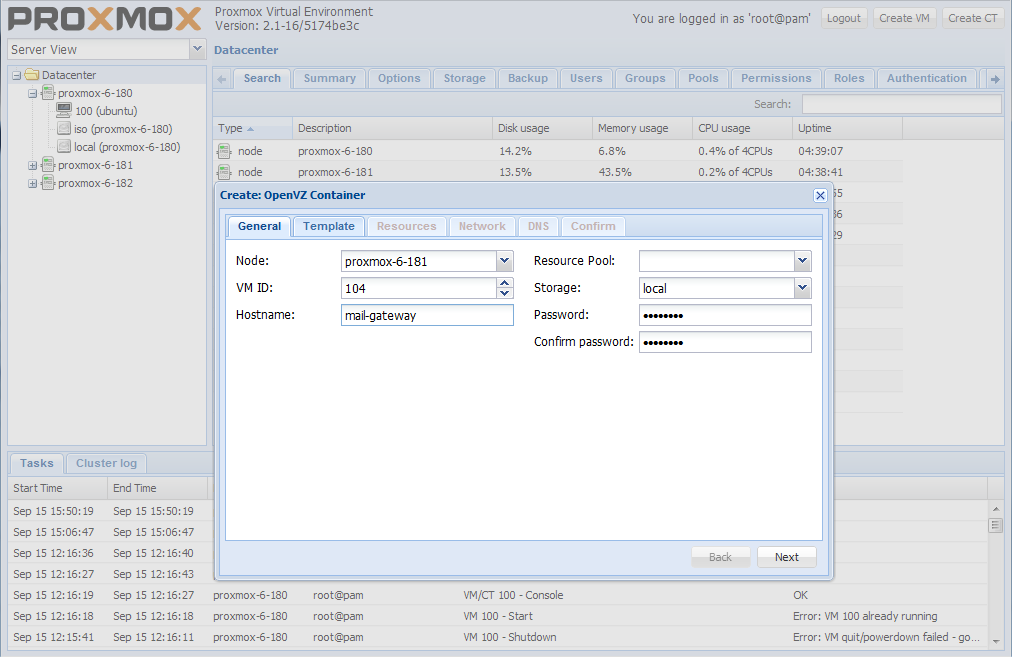 Because it's a Debian operating system, storage choices are limited only by the availability of drivers for the hardware platform. iSCSI, NFS, and other remote storage file systems can be mounted and used to store virtual machines.
The product looks like it will shake up some thinking in the virtualization platform market and may get people thinking more about what it means to be limited to only one type of virtualization option. When it hits that magic 1.0 mark, and most of the major flaws above are fixed for the majority of users, this product could really shine. Overall, I rate this product a seven poker for stirring things up, down from nine because it's still cooking.