News
Stay informed about the latest enterprise technology news and product updates.
VMware Certified Professionals command higher salaries, report shows
It's been six months since I posted about the value of the VMware Certified Professional (VCP) certificate, and I thought I'd provide an update.
As the image shows, courtesy of indeed.com, the VCP is as hot as ever.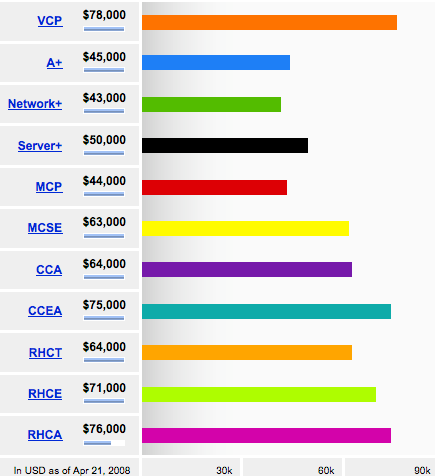 Since I last covered this topic, the following shifts occured:
The VCP gained $3,000
The A+ climbed $6,000
Network+ declined $1,000
MCP gained $1,000
MCSE gained $2,000
CCA lost $2,000
CCEA picked up $2,000
RHCT picked up $3,000
RHCE picked up$2,000
RHCA lost $1,000
The big gain in VCP salaries over a period of less than six months shows that this technology is still very much an in-demand skill set and a hot certification to show off. It's a new year and salaries did jump overall, so this is reflected in the data. As before, the international trend is also continuing, as the next two images (from itjobswatch.co.uk) show, in terms of salary and demand.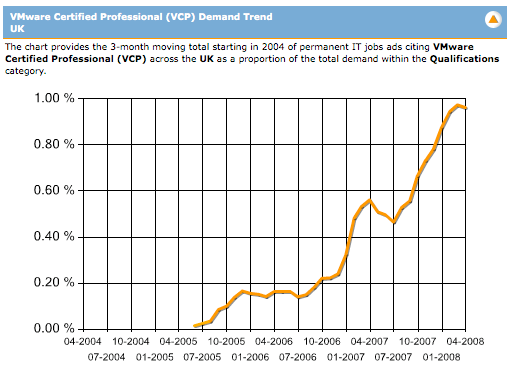 I intend to keep tracking these statistics every few quarters, so stay tuned. I'm also keeping my eye out for Citrix-sponsored Xen certifications and will be bringing an analysis of those to the blogosphere as soon as there's some quantifiable information available. And with VMware ramping up its certification programs, I expect to be adding second and third-tier VMware certifications.
What other certifications do you think should be compared? I've included a broad list of non-developer certs to show the variety and range in entry-level (MCP, A+) system admin certs through top-tier (CCEA, RHCA) certs to compare the VCP's placement as a hot-technology. I've left off network, storage and many specialty certs because they may not be pervasive enough in the enterprise or may not be relevent topically. Since I'm one person with one view, I hope our readers will comment below and dictate to me what should be compared. So please fire away.