News
Stay informed about the latest enterprise technology news and product updates.
VMware fires back against Microsoft's mythbusters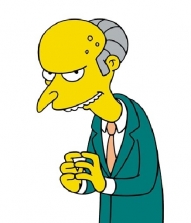 VMware and its supporters have made like Mr. Burns and released the hounds on Microsoft.
The object of their ire is the "Top 10 VMware Myths" video, which features two Microsoft execs trying (sometimes a little too hard) to show why Hyper-V is better than VMware. Viewers on Microsoft's own site called the video "embarrassing" and said "we deserve better than this," but that criticism pales in comparison to reaction on other blogs.
The award for Most Thorough Response goes to VMware's Mark Chuang, who posted a 2,500-word rebuttal on the VMware Virtual Reality blog. Check out some of these zingers:
"Microsoft's answers to what it sees as 'myths' don't really even address factual errors – it's just more marketing rhetoric."
"Microsoft likes to play the 'futures' card and promote features that are not yet GA. … Even once Microsoft ships its implementation of live migration, it will be an unproven, version 1.0 Microsoft technology that lacks real-world reliability testing."
"The entire Microsoft System Center Suite (VMM, OM, CM) still does not come anywhere close to the virtualization management solutions found in VMware's vCenter Suite."
"The Microsoft video claims that cost per application is too 'theoretical.' That's like saying 'miles per gallon' on a car is not a relevant metric."
Gabe's Virtual World also offers a point-by-point breakdown of the video and chides Microsoft for its virtualization marketing strategy:
Personally, I'm getting really tired by these "commercials" in which company A compares its product to company B and makes big mistakes in the comparison. I can live with commercials that say that pepsi is better then coca-cola, I can live with a commercial that says buy Hyper-V instead of VMware but I always have problems with seeing how Microsoft is constantly spreading this kind of commercials that are plain wrong.
Vinternals takes things one step further by digging up a Microsoft research paper from January that shows the limitations to Hyper-V performance. And Eric Gray wins the prize for Funniest Response with this gem: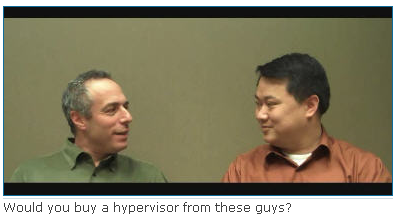 This drubbing doesn't seem to be slowing Microsoft down any. In fact, the company seems to be taking the same approach against VMware in the desktop virtualization market. Microsoft and Citrix are hosting a webcast tomorrow called "Exploring VDI's Myths, Limitations and Benefits." Maybe this will be one of the slides: