News
Stay informed about the latest enterprise technology news and product updates.
VMware kills cloud's promise, Red Hat says
BOSTON — Your choice of hypervisor is a vote for the future of IT. And to choose VMware is to vote against the promise of cloud computing.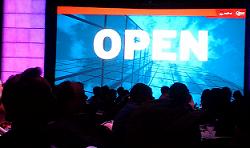 That's been the message from Red Hat executives here at the Red Hat Summit. During yesterday afternoon's keynote, CEO Jim Whitehurst said vendors that market full cloud solutions are trying to lock customers into their stacks, and they're just delivering the "same old stuff under new names." If IT chooses this model instead of the open source approach, he said, "we as an industry are deciding who is going to be the next Microsoft."
As I wrote last week, VMware is clearly aiming to be the next Microsoft, but at an open source conference, being called "the next Microsoft" is most definitely not a compliment.
"This is the antithesis of what cloud is and what cloud should be," Whitehurst said, adding that cloud should be driven by users, not vendors.
Although Whitehurst did not mention VMware by name, it was clear who he was talking about. Paul Cormier, Red Hat's executive vice president and president of products and technologies — yes, he's both a president and a vice president — took a more direct approach this morning. He called out the hypocrisy around VMware's Cloud Developers' Bill of Rights, which talks about the dangers of vendor lock-in, then he said, "90-plus percent of (VMware's) products in the enterprise are as open as our friends up in Redmond."
Red Hat's take is compelling. The true promise of the cloud is the ability to provision resources as needed, and if you're using a proprietary platform, your options for those resources will be limited. The argument for open source is perhaps stronger here than in any other area of IT. If you're locked into, say, one desktop computing platform, that's one thing. But if you're locked into one entire infrastricture platform, that can really hinder business agility.
There's one big problem with Red Hat's case, though. If this cloud computing referendum all goes back to hypervisor choice, the election may already be over. Sure, a lot of smaller businesses haven't even virtualized yet, but larger companies — the ones with the most electoral votes — have already checked the box next to VMware's name.