News
Stay informed about the latest enterprise technology news and product updates.
VMware realizes cloud talk is cheap
VMware is making the switch from a virtualization company to a cloud company, and they want customers to come along for the ride. New products and services are finally making that a possibility.
For most organizations, unfortunately, building a private cloud is easier said than done. For several years, VMware pushed its "move to the cloud" message, but with many changing details (remember the Virtual Data Center Operating System?) and no actual products, users were often confused.
Over the past few months, however, VMware's messaging to its virtualization faithful has become more concrete. The release of vCloud Director at VMworld 2010 got people talking, because it was an actual product that they could buy and use. Last week VMware released vCloud Connector, a free vCenter plug-in aimed directly at server virtualization admins. And just this week the company said it will replace one of its virtualization products, Lab Manager, with vCloud Director.
Now that these vCloud products are available, everyone can start building a private cloud, right? Not so fast.
A lot of work has to go into preparing your infrastructure to become a private cloud. (Don't believe it? Check out all the considerations that Eric Siebert wrote about in this private cloud 101 piece from last year.) VMware hasn't exactly trumpeted this fact in the past, but that's changing too.
Today the company announced an online cloud readiness assessment tool. The cynic in me expected a site like HasTheLargeHadronColliderDestroyedTheWorldYet.com, which, when you sign on, presents a black screen with the word "NOPE."I figured you'd go to a URL like AmIReadyForTheCloud.com and get something that looks like this: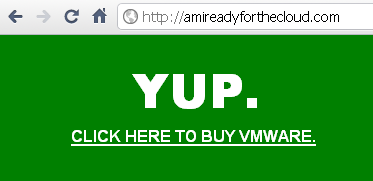 But the VMware tool is surprisingly detailed. It asks lots of questions about your organization's IT infrastructure and cloud computing plans, then spits out appropriate recommendations and best practices.
(One example: "Start identifying the potential limitations of your current infrastructure, the desired capabilities of the future infrastructure, and the technology gaps you need to bridge. Document that into a reference architecture and develop a roadmap to transition to future state." Users can then download a tailored document with more specific information.)
The tool is the latest sign that VMware, after years of talk, is serious about getting its customers to the cloud. Will VMware succeed? That remains to be seen, but at least the company has moved from vague, amorphous concepts to specific, tangible offerings.