News
Stay informed about the latest enterprise technology news and product updates.
VMworld 2010: The angst of crowds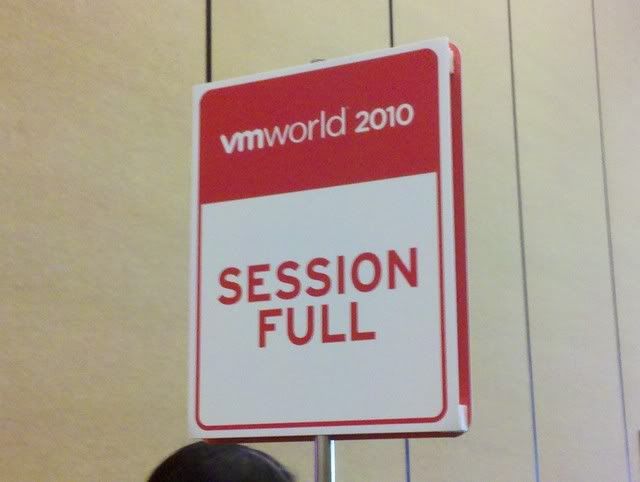 By now, we know the stats. A mob of 17,000-plus swarmed the Moscone Center for VMworld this week, in hands-down the busiest and most crowded of the three VMworld's I've been to so far.
Couple that with VMware's "first-come, first-served" approach to session scheduling this year, and there was certainly never a dull moment.
So what was it like being part of such a massive sea of humanity?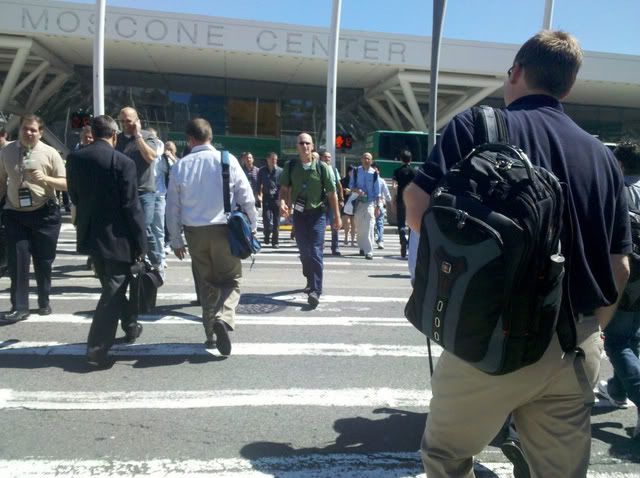 Great migratory herds were crossing at every intersection, especially in the mornings and evenings.
The show floor was sometimes all but impassible. This photo was taken during the Best of VMworld 2010 Awards ceremony, but it gives you an idea of what the floor looked like when they first opened it on Monday night — people packed in shoulder to shoulder.
But what caused the most chaos this year was session scheduling.
Prior to the show, this message appeared on the VMworld 2010 website for registered attendees:
This year, there is no Session pre-registration, which gives you more freedom and greater control over your conference experience. Forget trying to plan your daily agenda around Sessions you picked weeks ago – use Schedule Builder to view a complete listing of available Sessions, and then just show up at the ones that work best for you. Plus, we'll be repeating most Sessions at least once, so you'll have ample opportunity to attend your top choices.
In fairness, VMware has received complaints in past years when sessions were limited to those who had pre-registered. Inevitably, some people wouldn't show up, sometimes leaving empty chairs inside the session rooms and people who wanted to get in out in the cold. And freely available, come as you are resources are what the cloud's all about, right?
VMware also did run parallel sessions, as its message indicates. There was a slide added to the electronic sign screens around the show with a list of the most popular sessions and a notification that they were "most challenging" to attend, so people at least had some warning of which sessions they needed to show up for as early as possible.
But wherever I went in the Moscone Center this week, people were talking about how difficult it was to get into sessions, and I saw some lines, particularly for hands-on labs, PowerCLI sessions, and View 4.5 sessions, that were truly eye-popping.
This is the line outside a View 4.5 session late Tuesday afternoon. You actually can't see the end of the line in this picture — it stretches all the way down the hallway. There also seemed to be a stricter observation of the fire code at Moscone than in other convention centers I've been to, meaning there was no standing room inside the sessions. Judging by the size of the room for this session and the size of this line, I'd estimate no more than a third of the people waiting here actually got in to this one.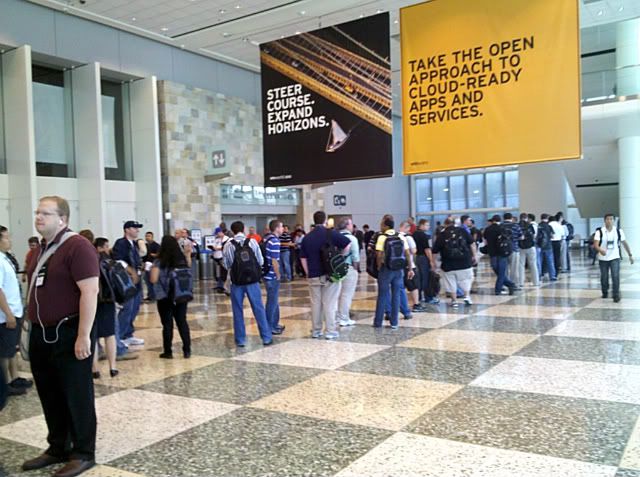 I've seen shorter lines for roller coasters at amusement parks — and at times the lines at VMworld had to double back on themselves, in a way similar to the lines at a Six Flags.
I don't know what the solution would be here. Managing this many people in this short a time in limited space is no small feat. But maybe we'll see even more "parallelization" for better "throughput" next year.