Evaluate
Weigh the pros and cons of technologies, products and projects you are considering.
Virtualization divination: Which expert predictions came true in 2016?
At the beginning of 2016, we asked our panel of experts on the SearchServerVirtualization Advisory Board to gaze into their crystal balls and offer predictions for virtualization trends in 2016. These predictions came hot on the heels of Dell announcing its acquisition of EMC, so it's no surprise that the potential ramifications of this merger occupied their thoughts, but our experts also forecast the rise of containers and hyper-converged technology, an uncertain road ahead for virtualization and more. Were our experts given the gift of sight and the ability to prophesy the future? Read on to find out.

Download this free guide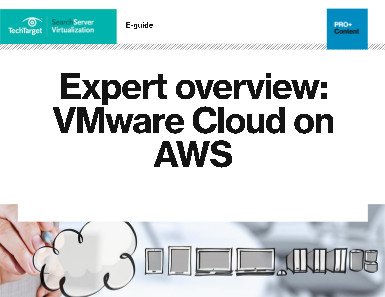 PDF: Experts examine VMware Cloud on AWS partnership
The AWS and VMware partnership is certainly an interesting one, with big changes possibly taking place in both the VM and public cloud markets. Get our experts' first take here.
By submitting your personal information, you agree that TechTarget and its partners may contact you regarding relevant content, products and special offers.
You also agree that your personal information may be transferred and processed in the United States, and that you have read and agree to the Terms of Use and the Privacy Policy.
The Dell-EMC merger shakes up the market
Let's start with the elephant in the room: the Dell-EMC merger. Dell bought out storage giant EMC in October of 2015 to the tune of $67 million and with it acquired a stake in VMware. Dell and EMC CEOs claimed that the merger would result in the companies taking a unified leadership position in new technologies, and that EMC going private would allow the company to remain agile on the business side while keeping the peace with shareholders. For its part, VMware was slated to remain public. The Dell-EMC merger closed on September 7, 2016.
This news was still hot off the presses back in January 2016, so our experts were left with more questions than answers. Brian Kirsch of the Milwaukee Area Technical College, deliberated the acquisition's effect on VMware, wondering whether the virtualization company would remain a disruptive force or stabilize and become an established market player. Maish Saidel-Keesing of Cisco Video Technologies Israel questioned how the merger would affect the virtualization market.
Fortunately, the insight and perspective of time have given us the answers to these questions. Initially, the merger appeared to be a dark cloud looming over VMware, coinciding with layoffs and plummeting stock shares. Despite the doom and gloom, the benefits of the merger for VMware have since become more apparent: VMware's clientele will likely increase thanks to Dell's sales team, and the merger has inspired the company to focus on new cloud and networking strategies with particular attention on NSX.
As for its effect on the virtualization market as a whole, the Dell-EMC merger has created some confusion in regards to redundant products, support systems and sales teams, which has understandably led to customer anxiety. Going forward, Dell will have to make some cuts or, at the very least, some upgrades, which may result in the company emphasizing its best products.
The container explosion
Our experts agreed almost unanimously that 2016 would be the year of the container, speculating that the capabilities of containerization would grow, that the number of container startups would increase exponentially and that container technology, such as Microsoft Nano Server, would make a splash. It would seem that our experts were right on the money with this prediction: According to a report from 451 Research, in a survey of 960 IT professionals polled on their adoption of containers, 32% said they were in the process of discovery and evaluation, 10% were running trials, 8% were focused on test and dev environments, 9% reported initial implementation in production applications and 5% reported broad implementation in production applications.
Why the commotion over containers? Containers are easy to deploy and can be more resource efficient than VMs. They're also faster to provision, offer greater performance in terms of speed and are highly portable. And the container explosion of 2016 isn't just a passing fad — it's carried over into 2017 and is expected to continue, with another 451 Research survey reporting that the application container market will grow from $762 million in 2016 to $2.6 billion by 2020.
HCI takes its seat at the table
Another trend our experts forecast was the rise of hyper-converged infrastructure (HCI). It doesn't take psychic ability to understand the appeal of HCI — it neatly packages the different elements of a traditional data center into a single appliance, and offers tighter integration.
Rob McShinsky of the Dartmouth-Hitchcock Medical Center predicted that HCI would enter the mainstream in 2016 and that hyper-converged technologies would take their seat at the table as the base hardware platform for many medium- to large-sized organizations. This prediction proved particularly prescient, with IDC reporting hyper-convergence growth at 137.5% year-over-year during the second quarter of 2016. This veritable boom drew the interest of legacy and new vendors alike, with new HCI vendors leading the pack. The oversaturation of the market has led vendors to lower their prices significantly, which is good news for customers, but could spell trouble for vendors' profits. As a result, the market has started to consolidate, as evidenced by the recent acquisition of SimpliVity by Hewlett Packard Enterprise.
Our experts may not have proven themselves to be clairvoyant, but, for the most part, their predictions for 2016 rang true; we can only hope to be as perceptive looking to the future of server virtualization in 2017.