News
Stay informed about the latest enterprise technology news and product updates.
Why You Must Evaluate Citrix XenServer
With two clear players emerging in the premier virtualization space, VMware's ESX Server platform and the Citrix XenServer, every serious virtualization shop needs to evaluate XenServer for fair comparison. Why? Well, right now ESX is the top product in the popular opinion, but after attending a summary of the recent Citrix iForum it became clear that XenServer will pose a significant challenge in all areas to the VMware offering as the resources of Citrix are integrated to the XenServer platform as the products mature. Just to be fair, VMware is constantly working to improve their offerings as well.

Download this free guide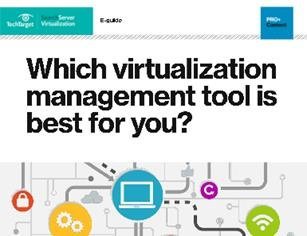 VMware vs. Microsoft vs. Citrix
Download now to compare the top ten virtualization management tool providers including VMware, Microsoft, and Citrix, and see what improvements your organization could make with a virtualization management tool.
Following in the Footsteps of Free Software
Just as Microsoft and VMware released virtualization products as free pieces, XenServer Express Edition is available to use as a free download. The full enterprise management pieces are not available on the free download (as is the case with VMware Server vs. ESX), but this is a great way to get started with being familiar with the XenServer platform. This is critically important as virtualization in the x86 world is relatively young in the data center, so in my opinion there will be many arrivals quickly onto the scene and I do not want to entrap myself into one product without full knowledge of the other offerings.
Explore Additional Management
In part of your evaluation, it may be a good idea to determine the differences from the management side between VMware ESX and Citrix XenServer Enterprise edition. There are some differences, and as the next release of XenServer that has had the Citrix touch on the whole build, there should be some exciting new features that will surely give VMware a challenge for the best enterprise virtualization product. Regardless, we all win, as a better suite of products will be made available to the enterprise.