News
Stay informed about the latest enterprise technology news and product updates.
Why managing VMs is hard: Virtualization Log
There are a lot of vendors talking about virtualization management, but their pitches can sound frightfully similar. One exception is ManageIQ, whose co-founder Joe Fitzgerald lays out some concrete examples of what makes managing virtual machines so complex — and so important.

Download this free guide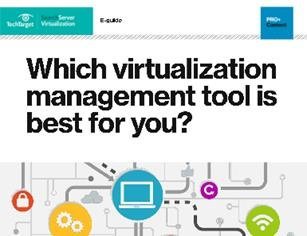 VMware vs. Microsoft vs. Citrix
Download now to compare the top ten virtualization management tool providers including VMware, Microsoft, and Citrix, and see what improvements your organization could make with a virtualization management tool.
Curious about Microsoft's forthcoming Hyper-V, formerly Viridian? So is Anil Desai, our resident Microsoft virtualization expert, who weighs in with a discussion of the Microsoft Hyper-V architecture. Among the key differences he finds between it and VMware ESX is how drivers are handled: "With Hyper-V, drivers are installed within the guest OS, not within the hypervisor layer," Desai writes. "This allows vendors and administrators to use drivers that were designed for the server's physical hardware, rather than the virtualized hardware."
Is it safe to serve up both Internet and intranet content from VMs on the same ESX host? That depends on whether you trust VMware's networking stack, writes site expert Andrew Kutz. If not, you're better off segregating them, he writes.
Also, for the VMware value-added resellers (VARs) among you, I just noticed an interesting "VMware FAQ for Resellers" guide on our sister site SearchSystemsChannel.com, which caters to the channel set. Among other things, learn about VMware's incentives for resellers, the value of the VCP (VMware Certified Professional) certification, and how VARs can sell services on top of the embedded ESX 3i. Good stuff.