Definition
physical to virtual (P2V)
Physical to virtual (P2V) is a term that refers to the migration of an operating system (OS), application programs and data from a computer's main hard disk to a virtual machine or a disk partition.

Download this free guide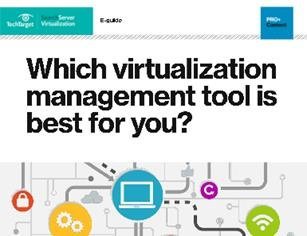 VMware vs. Microsoft vs. Citrix
Download now to compare the top ten virtualization management tool providers including VMware, Microsoft, and Citrix, and see what improvements your organization could make with a virtualization management tool.
P2V can be done manually by creating or defining a virtual environment and then reinstalling the OS, applications and data on it. This can be a tedious and uncertain process, especially if the new environment contains substantially different hardware than the old. To streamline the operation, part or all of the migration can be carried out automatically by means of specialized programs known as migration tools. Some legacy hardware simply cannot be emulated in a virtual infrastructure. Performing a P2V migration with a DOS-based accounting package running on 16-bit hardware, for instance, isn't an option because none of the major virtualization platforms support 16-bit guest OSes.
P2V is commonly used to accomplish server virtualization. P2V is also popular as a way for Macintosh users to run Windows applications.
Continue Reading About physical to virtual (P2V)
Dig Deeper on P2V, V2V and V2P migration