Get started
Bring yourself up to speed with our introductory content.
How to design your server virtualization infrastructure
Mapping out a server virtualization infrastructure is a tedious process and it's important to plan ahead.
Introduction
Designing your server virtualization infrastructure requires a lot of planning before it's built, as well as plans for if something ever happens. Virtualization helps eliminate hardware issues inside a data center and allows virtual machines to be easily moved. In terms of speed, virtualization can create space in a matter of moments.
It's important to take into consideration the amount of resources you'll need, especially in terms of capacity and power consumption. Just because your environment seems secure doesn't mean it's bulletproof to a disaster. Disasters can come in multiple forms and are nearly impossible to avoid. However, having a disaster recovery plan in place is key in designing a server virtualization infrastructure.
Finally, private cloud always seems to creep into plans. There's a difference between private cloud and regular virtualization, and it's important to distinguish the disparities in order to make a logical decision.
1

Planning ahead

-
Resource provisioning and capacity planning
Provisioning resources and planning capacity seems like it is a simple task, but it's certainly one that can't be overlooked. Virtual machines that end up without the necessary resources will suffer performance issues. On the other hand, overprovisioning resources to a VM could be a waste. It's important to have a proper capacity plan in place to ensure your resources will be ready to handle any and all workloads and keep your environment running smoothly.
2

Designing for failure

-
How to prepare and respond to failure
Unfortunately, failure is inevitable. But just because it's going to happen doesn't mean you can't be prepared for it and ready to recover. Whether it be an actual natural disaster or something smaller like a power outage, it's important for enterprises to be ready. Not everyone uses the same approach to disaster recovery, so it's important to establish a plan that fits your environment and company.

Download this free guide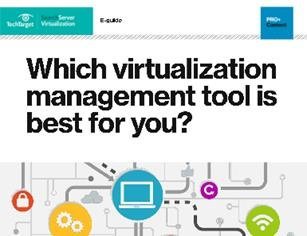 VMware vs. Microsoft vs. Citrix
Download now to compare the top ten virtualization management tool providers including VMware, Microsoft, and Citrix, and see what improvements your organization could make with a virtualization management tool.
3

Taking it further

-
Designing a private cloud is a logical next step
Sometimes virtualization isn't enough and enterprises elect to explore private clouds. One big advantage of private cloud is automation. Automated provisioning tools allow enterprises to choose the number and types of resources needed and then create those virtual resources to make them available for use. However, a private cloud may not bring financial advantages and isn't the right choice for every organization.