Evaluate
Weigh the pros and cons of technologies, products and projects you are considering.
Live Migration vs. vMotion: A guide to VM migration
Introduction
Both VMware and Microsoft have similar virtual machine live migration features that allow IT pros to move virtual machines -- that are running -- from one host to another, but that hasn't always been the case. VMware Inc., a very big name in virtualization, was first on the scene, debuting vMotion with GSX and vCenter in 2003. VMotion caused quite a stir in the industry and was seen by many as a turning point for virtualization.
It wasn't long before other vendors attempted to develop a VM live migration feature of their own. Microsoft responded with Quick Migration in its Windows Server 2008 Hyper-V release, but it fell a little short. Quick Migration allowed a similar ability to move VMs among hosts, but it required that the VM pause for a short time to perform the move. Microsoft took a major step toward matching vMotion by eliminating the need for this pause with Live Migration, which replaced Quick Migration in Windows Server 2008 Hyper-V R2.
Even though both vendors now offer the feature, there are still important (if small) feature and process differences. In this guide, we'll lay out how to use each live migration feature and explain the differences between Hyper-V Live Migration and vMotion.
1

Get started with vMotion

-
Understanding the basics of VMware vMotion
VMware vSphere vMotion moves running virtual machines from one ESX/ESXi host to another without stopping the VM's operations. There are some restrictions on vMotion, although VMware has pushed to open vMotion's possibilities as vSphere matures as a hypervisor platform for VM live migration.
2

Uses for vMotion

-
Putting VMware vMotion into motion
VMware vSphere vMotion enables Distributed Resource Scheduler (DRS), which balances host utilization and supports scheduled maintenance. It also helps VMware Site Recovery Manager put VMs back into service when unexpected failures occur.

Download this free guide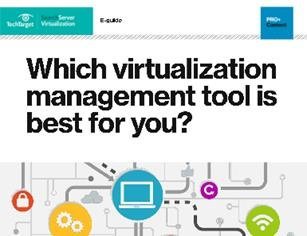 VMware vs. Microsoft vs. Citrix
Download now to compare the top ten virtualization management tool providers including VMware, Microsoft, and Citrix, and see what improvements your organization could make with a virtualization management tool.
3

Live Migration vs. vMotion

-
Using and comparing Live Migration vs. vMotion
While Live Migration isn't the original, it's now competitive with VMware's vMotion. In fact, the latest version of Hyper-V Live Migration has even impressed some VMware loyalists. However, there are a few important differences you should know about.
4

Troubleshooting Live Migration

-
What to do when Hyper-V Live Migration doesn't work
VM live migrations don't always work as expected. Compatibility problems or resource limitations can short-circuit Hyper-V Live Migration. Here are some tips and tricks to help you resolve problems and better leverage Hyper-V Live Migration.