A close look at Embotics vCommander cloud and virtualization manager
Embotics vCommander is a private cloud and virtualization management service that's compatible with VMware and Microsoft Hyper-V environments, as well as a variety of cloud providers.
Embotics vCommander is a virtualization management tool that allows admins to manage their hybrid cloud and virtual environments. VCommander provides a wide feature set, including asset discovery, economic comparison, chargeback management and self-service provisioning. The vCommander service also provides standard virtualization management functionality, such as workflow management, a built-in orchestration unit, capacity management and resource reporting. It supports multiple hypervisors and cloud platforms, including VMware vSphere, Microsoft Hyper-V, Amazon Web Services and Microsoft Azure.
Embotics vCommander's lifecycle management features a built-in orchestration engine, which automates approvals, provisions and process decommissioning using policy-based rules.
The product's main reporting unit provides a dashboard view of the virtual environment, including remaining capacity, capacity per cluster, storage available and more. It can automatically generate reports and export data from its reporting dashboard. Perhaps the most useful of the reports is the Leading Practice report, which is used to identify waste, optimize resources and find underperforming infrastructure components.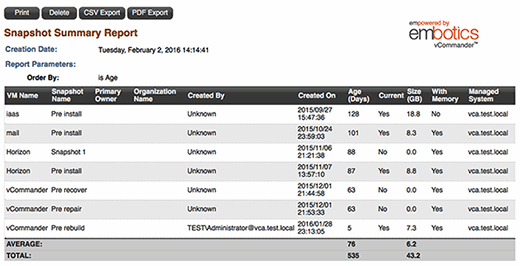 VCommander's cost-reporting utility allows administrators to manage internal chargeback and showback. It carries a built-in cost calculation unit that allows administrators to track the costs of customizing their infrastructure, and it compares the costs of an internal IT department to a third-party managed service, such as Amazon Web Services. Embotics vCommander also compares workload costs to determine if changing hypervisors or cloud services would be more cost-effective.
Embotics vCommander includes a very rich self-service provisioning engine. Not only is there an interface for users to provision their own VMs, but the administrator can use quotas and service catalog permissions to restrict VM creation.
VCommander is packaged as an IT-as-a-service platform, and it is available for a 15-day free trial. Unfortunately, Embotics does not disclose their pricing strategy for vCommander.
Dig Deeper on Improving server management with virtualization