Advanced Virtualization e-book
Advanced Virtualization gives IT professionals the tools needed to examine existing virtualization deployments to ensure that their environments thoroughly meet disaster recovery, availability, storage and security requirements. This e-book also outlines desktop virtualization, the emerging trend of network virtualization and explores hypervisor management techniques.
Server virtualization continues to evolve, forcing administrators to keep up with continual changes and challenges. SearchServerVirtualization.com's Advanced Virtualization e-book gives IT professionals a deeper dive into server virtualization projects, allowing them to further reap the rewards of consolidation, disaster recovery and stability and manageability.

The Advanced Virtualization e-book covers critical areas of server virtualization, availability, storage and security. Final chapters dig into the nuts and bolts of desktop virtualization -- from technology evaluations to performance monitoring and management. They also examines network virtualization's rise as an emerging infrastructure and offer tactics and best practices for optimizing hypervisor performance.
---
Chapter 1: Disaster Recovery Strategies for the Virtual Data Center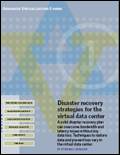 This chapter addresses the following areas:
Two disaster recovery techniques of the virtual data center
Overcoming bandwidth and latency issues without data loss
The role of data deduplication
Tools for disaster recovery efficiency
Testing your virtual DR strategy
Dig Deeper on Server consolidation and improved resource utilization