Best of VMworld Awards 2007
SearchServerVirtualization.com's panel of expert judges honored sterling virtualization products in its Best of VMworld Awards on Sept. 12, 2007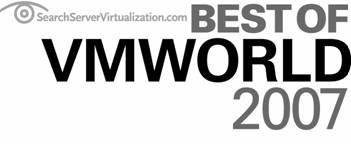 The Best of VMworld Award winners were presented to products in eight categories during VMworld 2007 on September 12. The overall Best of Show award was given to IBM and VMware, jointly, for the recently announced IBM System x 3950 M2 with VMware's new embedded hypervisor, ESX Server 3i.

These awards, presented by SearchServerVirtualization.com and sponsored by VMware, recognized outstanding products in the virtualization market. Over 120 products were entered into the competition. Products were judged for innovation, value, performance, reliability, and ease of use by a team of experts, users and SearchServerVirtualization.com editors.

Get the scoop on The Best of VMworld Awards from these links:

SearchServerVirtualization.com's editors covered VMworld 2007 extensively. Check out our VMworld 2007 roundup page for more news; product reports; and videos of VMware CEO Diane Greene, industry analysts, editors and more. For some humorous views of VMworld 2007, view our video blogs on show giveaways and signage.