Everything you need to know about SolarWinds Virtualization Manager
Read as expert Brien Posey explains SolarWinds Virtualization Manager, a virtualization management and monitoring tool for data centers running VMware and Microsoft Hyper-V environments.
SolarWinds Virtualization Manager is a virtualization management suite that allows administrators to monitor VMware (vSphere v6.x, 5.x and 4.x) and Hyper-V (2008/2012) environments in their data centers from a single pane of glass. Virtualization Manager has an extensive list of features including heterogeneous environment management, VM sprawl control and application awareness. Virtualization Manager also has capacity planning and chargeback deployment features.
SolarWinds Virtualization Manager offers a single pane of glass management tool for both VMware and Microsoft Hyper-V virtual environments. Also, Virtualization Manager is able to perform a variety of VM-level actions such as creating or deleting snapshots, migrating VMs and storage and making changes to VM memory. Even so, the software lacks some of the functionality of native virtualization management tools. For example, it does not perform storage provisioning, nor does it perform template-based VM provisioning.
Admins can generate reports on operating systems (OSes), memory consumption, running hosts, cluster usage and more all from one central console. The product provides multiple dashboards such as an administrator dashboard delivering real-time performance data and a showback dashboard displaying CPU, memory and storage information. Admins can also sort, filter and search collected performance data and set targeted alerts customized to the environment being monitored.
Virtualization Manager's Orion integration unit allows admins to set alerts based on specific thresholds of deviation from a baseline, calculated from historical performance data. Additionally, it allows admins to monitor VDI performance using metrics such as IOPS.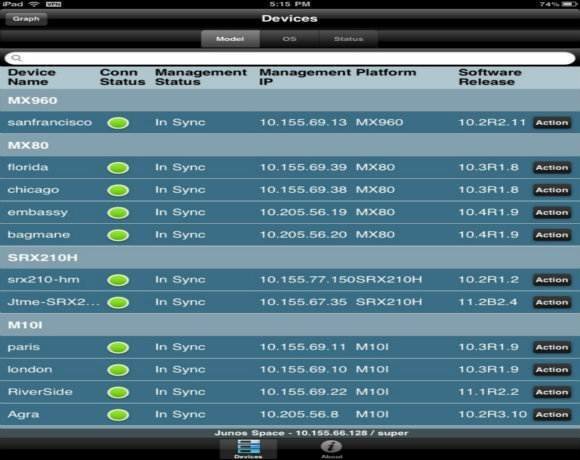 The product also has a configuration management module which allows users to track VMs and host configurations over time. It also uses a feature called Virtual DNA to compare historical configurations, OSes and virtualized applications. The product's Time Travel feature allows users to revert to a particular point in time to see when and how a virtual machine was changed.
SolarWinds Virtualization Manager has a capacity planning feature that determines optimal VM placement, in addition to identifying and eliminating VM sprawl. Its capacity optimization tool uses search-based analytics to perform predictive analysis on the virtual environment. It charts historical resource usage trends to predict when current resources will be saturated and shows the number of VMs that can be added to the environment before resource exhaustion becomes an issue. The capacity planner uses what-if scenarios to determine the cost versus the benefit of adding more hosts, VMs or storage to the data center.
As stated above, SolarWinds Virtualization Manager is application-aware and integrates with SolarWinds Server & Application Monitor, which must be purchased separately. This integration with Virtualization Manager gives users visibility into application-level performance and health issues, as well as those issues in the underlying virtualization infrastructure.
Virtualization Manager is available on SolarWinds' website for a 30-day free trial. Virtualization Manager pricing starts at $2,995.
Dig Deeper on Improving server management with virtualization