How to choose a virtualization systems management tool
The TechTarget Cloud and Virtualized Systems Management Survey reveals what features customers are looking for in new virtualization systems management tools.
In a world where IT's budget continually shrinks, it's no surprise that price is the top factor when it comes to choosing a virtualization systems management vendor.
The TechTarget Cloud and Virtualized Systems Management Survey asked qualified respondents what their top three factors are in choosing a virtualization systems management vendor. The most popular answer, which garnered nearly half of the votes at 47%, was price. Management console and dashboard functions, as well as integration with virtualization platform APIs tied for second with 42% each.
Businesses are always looking for a way to save money and often times IT suffers the biggest hit. Although a factor like how many hypervisors does the vendor support (19% of responses) might seem like a high priority, if the price is too high, then it doesn't matter. The lowest three selections were vendor reputation (17%), existing vendor relationship (16%) and ability to project ROI (14%).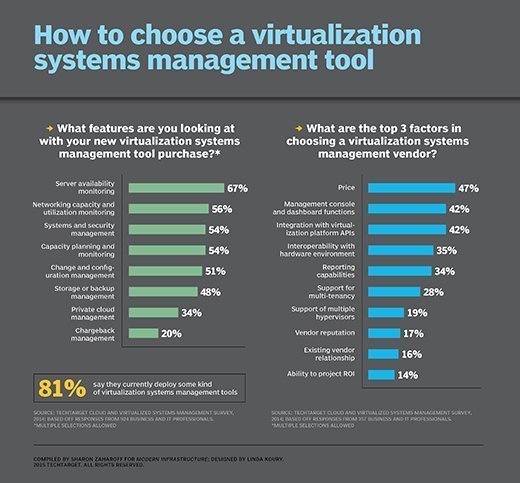 Jim O'Reilly, a consultant focused on storage and cloud computing, said the results paint a clear picture about storage.
"It's clear from the survey that storage isn't a high priority," O'Reilly said. "That's unfortunate, though the 30 years of essentially stagnant technology in storage may account for it. We are moving to a data-centric world. It will be all about the storage in a few years, as we optimized workflow and resources to take best advantage of the many storage options we will face."
The other question on the survey asked what features customers were looking for with their new virtualization systems management tool purchase. Respondents were able to choose multiple selections and 67% of them chose server availability monitoring, which was the top response.
Four other choices were selected by over half of the respondents including networking capacity and utilization monitoring (56%), systems and security management (54%), capacity planning and monitoring (54%) and change and configuration monitoring (51%). The lowest response was chargeback management, which only received 20% of the selections.
Editor's note: The TechTarget Cloud and Virtualized Systems Management Survey is a snapshot of responses to an ongoing survey of IT professionals. Respondents per question are noted in the graphic. Survey respondents demonstrate an interest in purchasing the technology described.