Keeping up with technology: Learn Puppet automation
Puppet Labs offers one of the most popular automation tools and you can learn it on your own time, for free.
As IT professionals, we are often challenged with deploying cutting edge tools into our complex infrastructures after being fully trained on these new tools. OK, I made up the last part. Training is something we all want and need, but rarely get. In reality, administrators may only get to go to one or two training sessions a year, and when you compare that to the number of new tools and vendors, it's easy to see that a serious training gap can develop. While more computer-based training and simulations help to bridge that gap, more administrators are using the sandbox or home lab.
Software has often come with trial downloads or included with other subscriptions, such as Microsoft's TechNet, Microsoft's Developer Network or VMware Technology Network. These were repositories of software that administrators could use for self-learning. Administrators often found old servers and networking gear and created these home labs. While hardware can still be used for home labs, reasonably cost-effective virtualization options can also be used without requiring all of the same hardware and power consumption. Several popular options such as Client Hyper-V, Oracle's VirtualBox and VMware Workstation exist today. These products allow the creation of sandbox environments where administrators can test products that would not be possible in production environments. Since these products support the Open Virtualization Format and VMware Workstation supports native ESXi VMs, they become ideal platforms for sandboxes.
Man companies now release their products as virtual appliances designed for easy deployment into production environments. This convenient packaging of the application has also spawned a unique side effect, helping to create a sandbox platform that administrators can use to learn the vendor's products. More and more vendors are using these channels to help educate users and further expand future sales opportunities. With so many vendors releasing demos and teaching VMs, it can be hard to keep up. In this series, we'll be looking at a different vendor each month to explore free options for self-training on some of the most useful products available today.
This month, we'll be looking at Puppet Labs. Automation is quickly moving from a "nice to have" feature to a necessity due to the explosive growth of virtual environments, and administrators can struggle to keep things moving along smoothly. Puppet is an automation platform that enables administrators to make rapid changes across an entire infrastructure while continuing to enforce consistency. While many organizations would like to have more automation of their environments, it is a challenging process that does not simply come in an easy-to-use wizard.
Format
For the experienced user, Puppet is available to download as a Linux distribution for Linux flavors, such as Ubuntu, CentOS or RHEL. While the Linux distribution is ideal for the Linux-savvy user, where Puppet Labs shines is the pre-packaged "learning VM" designed for the administrator new to Linux and automation in general. The VM is offered in a VMware-friendly format or an OVF format. The minimum to run this VM is one processor, 1 GB of memory, however two processor cores and 4 GB of memory is recommended for best performance. This is still light enough for most environments and can even be run on desktop virtualization software.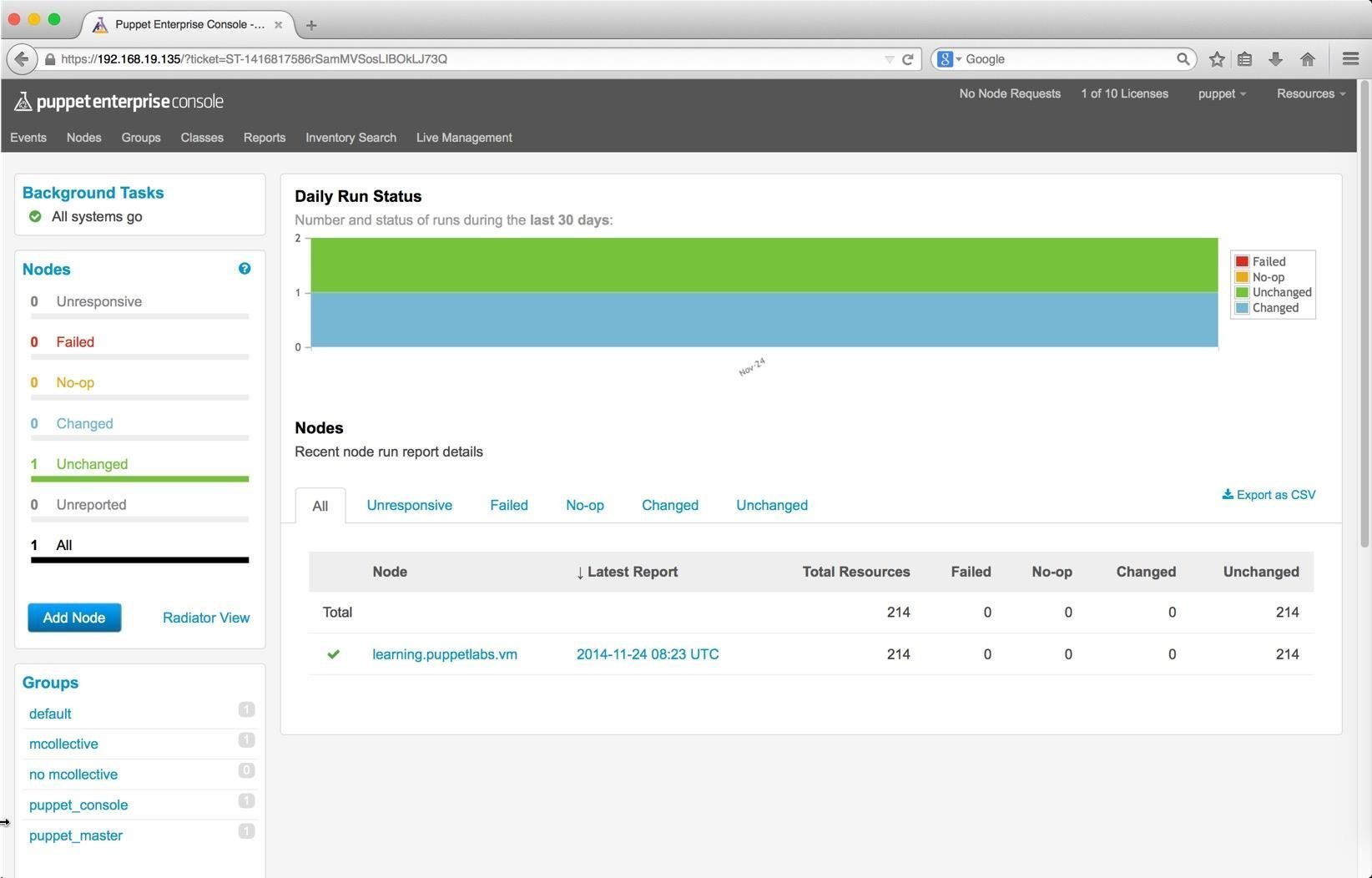 Ease of Installing
The Linux installation of Puppet can be a challenge for the Windows administrator unfamiliar with Linux, however the "learning VM" requires little more than importing the VM and adjusting processor and memory based on performance needs.
Documentation
The Puppet training VM comes with an 88-page guide that explains, in easy to understand detail, the setup to more advanced functionality of the Puppet automation environment. The guide is setup as an educational document rather than a reference guide. This provides the new Puppet automation user with a step-by-step guide to creating a functional environment without all of the stresses of learning and deploying a new complex application.
Restrictions
The learning environment is free to run on up to 10 nodes. After that, it does need to be licensed. It is also possible to license your learning VM with additional nodes, turning it into your production platform.
Puppet automation overview
Automation and scripting tools in general are difficult to quickly learn and deploy. The learning curve often takes weeks, if not longer, before many are willing to start automating in production environments. Puppet Labs is no exception to the complexity that comes with these automation tools. However, the offering of the learning VM coupled with a superb educational guide make that learning curve something that the average IT administrator can tackle on his or her own time. While it may not make you an expect, it lays an excellent foundation and will give you a feeling of comfort with the environment and have a much deeper understanding of what an automation tool can do for your organization.
More information and the free learning VM can be found at Puppet Labs' website.
Dig Deeper on Server virtualization staffing, careers and budget