Take your VMware home lab to the next level with the new EVALExperience
VMware and VMUG partnered to bring back a new software subscription service called EVALExperience
For many technology professionals, learning off hours is becoming the normal behavior. Work time is stretched thin with keeping production systems up and running, leaving the IT professional to learn new technologies or prepare for certification in the off hours. While books and CBT materials are helpful, they do not replace hands-on experience with new products and features. While used hardware can be found fairly inexpensive, the issue is often the software. Most vendors limit trials to 30 or 60 days that lead to a continual rebuild of home labs. This can become more frustrating than the experience is worth. Years ago, some vendors use to have subscription programs such as VMware's VMTN or Microsoft's TechNet. But, as the number of products grew along with the cost of the media, these programs were discontinued in favor of the trial periods we see today.
For the VMware User Group consisting of more than 100,000 members, the trial periods were simply not enough time with the products. So at VMworld 2014 during a lunch gathering with VMware CEO Pat Gelsingerand other VMware executives,, VMUG leaders asked about bringing back these subscriptions. VMware leadership listened, understood the needs and gave the use community a brand new EVALExperience. VMUG HQ and the VMware Customers Program group worked for months to bring a new experience to its users and even a new name. The EVALExperience is the result – a software evaluation program provided exclusively to VMUG Advantage subscribers.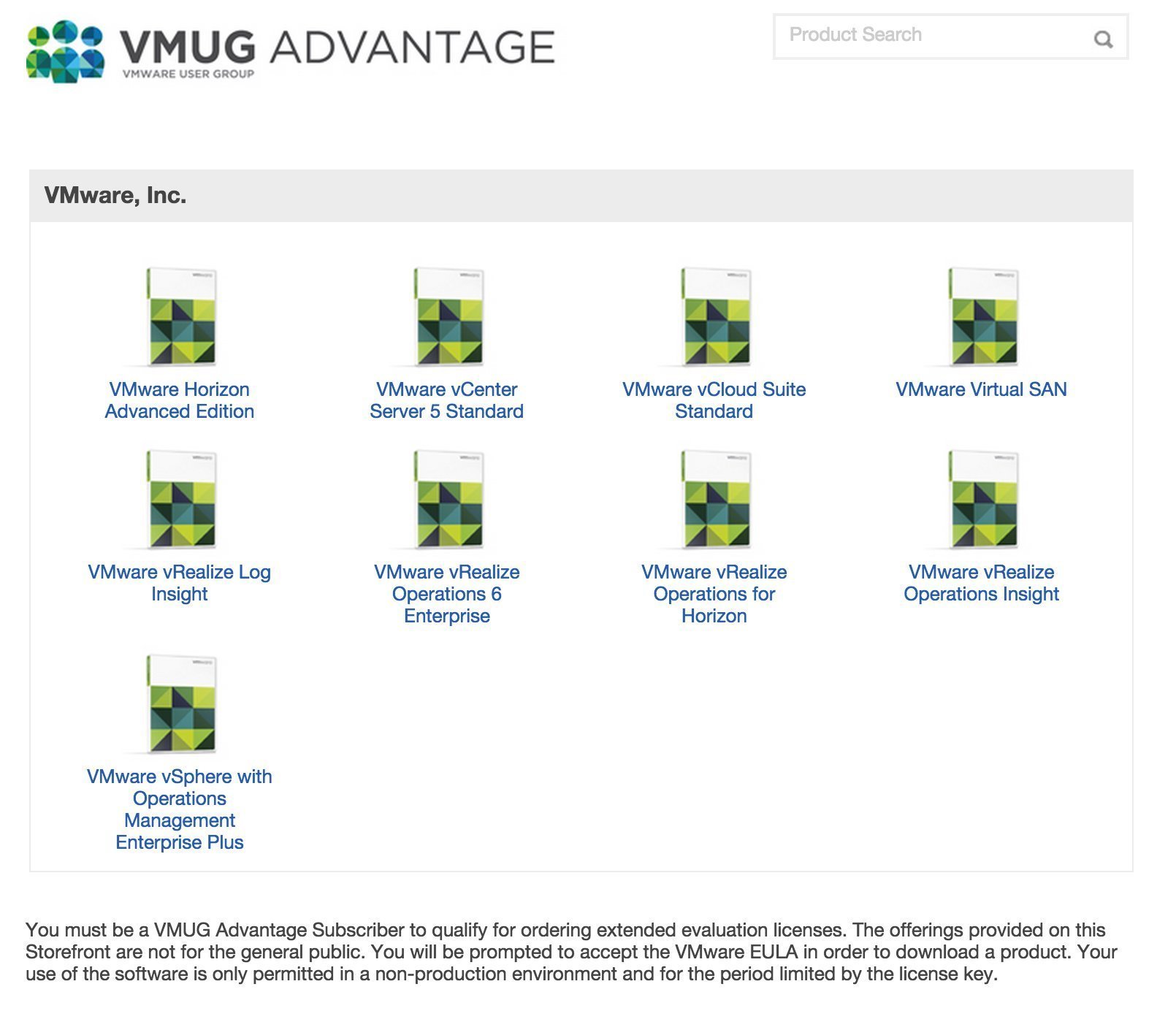 While membership in VMUG is free and gives you access to the meetings, user conferences and webcasts, the VMUG Advantage subscription program includes discounts on VMworld, training, labs and certification, VMware Workstation and Fusion as well VMworld online content. This annual $200 subscription will now include the EVALExperience containing core VMware products with 365 day licenses for the home lab.
The EVALExperience includes the latest versions of:
VMware Horizon Advanced Edition
VMware vCenter Server 5 Standard
VMware vCloud Suite Standard
VMware Virtual SAN
VMware vRealize Log Insight
VMware vRealize Operations 6 Enterprise
VMware vRealize Operations for Horizon
VMware vRealize Operations Insight
VMware vSphere with Operations Management Enterprise Plus
Each of these products will be updated as new versions are released and all of the products in the EVALExperience are licensed for non-production environments and do not include any technical support.
The EVALExperience is designed for administrators and engineers who are looking to expand their knowledge with VMware products through hands on experience. With the software-defined data center becoming the standard in IT, professionals are looking for more ways to further their experience and certifications. VMUG Advantage was already strong in the educational discounts and offerings and with the introduction of the EVALExperience it becomes a sure bet for the IT professional and new comer alike looking to gain that critical experience in today's software defined world. More information can be found at www.vmug.com.