Turbonomic virtualization management: A closer look
Turbonomic -- formally known as VMTurbo Operations Manager -- is a multi-platform virtualization management and monitoring tool that supports Microsoft Hyper-V, VMware, Red Hat Linux and Citrix.
Turbonomic -- formally known as VMTurbo Operations Manager -- is a cross-platform virtualization monitoring and management tool that is designed to work in VMware, Microsoft, Citrix and Red Hat virtual environments. The software interprets monitoring data and takes automated action when appropriate, removing the need for time-consuming administrator intervention. It also provides a dashboard-style view of the entire data center, and even identifies resources that can be reclaimed. Turbonomic's functionality can be extended with six add-on modules: the Application Control Module, the Network Control Module, the Container Control Module, the Storage Control Module, the Fabric Control Module and the Hybrid Cloud Control Module.
Turbonomic controls workloads at the hypervisor level. It uses agentless deployment and works as a VM that sits on the hypervisor. It has the ability to assign workloads based on demand, as well as existing resource usage, and it can reserve space in the data center for future workloads.
Turbonomic does not directly provide self-service provisioning capabilities. Instead, the company offers a product called the Hybrid Cloud Control Module that is designed to integrate with self-service provisioning capabilities provided by virtualization vendors.
Turbonomic virtualization monitoring tool also provides many what-if features through its Capacity Planning unit, including predictive analysis for changes to the virtual environment. Its data center simulation unit predicts how changes -- such as adding new hardware or merging clusters -- can affect the workload. It tests fault tolerance by simulating scenarios such as host failures and disaster recovery events, and then produces a failover plan. The tool also supports high availability (HA) configurations that reduce downtime in a virtual environment. HA support for Hyper-V-based environments is provided through Microsoft Virtual Machine Manager. Turbonomic requires two vCPUs -- four vCPUs is preferred – 16 gigabytes (GB) of RAM and 150 GB of storage.
Turbonomic unfortunately does not publicly disclose their license pricing. Administrators wishing to purchase this product must go to the Turbonomic website and submit a pricing request.
With regard to its management capabilities, Turbonomic is a third-party management layer for an organization's virtualization infrastructure, not a proprietary hypervisor vendor solution. As such, its focus is more on keeping your organization running well rather than making a lot of manual changes. Turbonomic's overall goal is to provide automated, dynamic workload placement. Although it isn't really designed to take the place of tools such as vCenter Server or System Center Virtual Machine Manager, it provides some management capabilities. For instance, Turbonomic software supports the use of templates to create objects such as VMs, hosts and data stores.
Turbonomic also offers built-in automation capabilities. The software is able to monitor VM workloads in real time and to realign resources on an as-needed basis in an effort to prevent performance degradations.
Reporting might just be Turbonomic's best feature. It creates reports that are designed to be actionable. These reports can be run manually or on a scheduled basis. It remains unclear, however, whether chargebacks are included in the available reports. Page 29 of the documentation mentions setting up chargeback and showback for private cloud or service provider environments. Even so, such capabilities are not explicitly listed as product features, and the instructions do not seem to address the implementation process.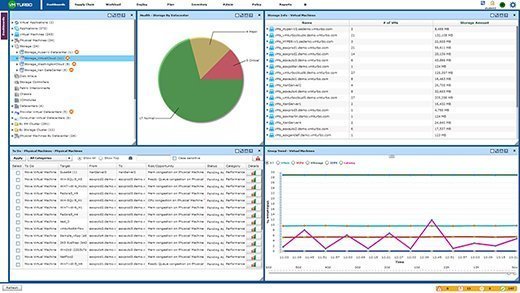 Dig Deeper on Improving server management with virtualization