News
Stay informed about the latest enterprise technology news and product updates.
The Best of VMworld Awards announced by SearchServerVirtualization.com
Some 120 products from VMworld 2007 exhibitors were submitted for judging in nine categories. Among the notables were IBM and VMware, winners in the Best of Show category..
SAN FRANCISCO – At VMworld 2007, the winners of the Best of VMworld Awards were chosen by a panel of experts and editors from TechTarget Inc.'s SearchServerVirtualization.com and announced at the show Wednesday, Sept. 12.
Winners were selected from more than 100 exhibitors at the VMworld conference being held this week at the Moscone Center in San Francisco and sponsored by virtualization software provider VMware Inc. of Palo, Alto, Calif. The independent team of judges reviewed and evaluated about 120 products and chose winners based on innovation, value, performance, reliability and ease of use.
"This is the game changer here: an IBM data-class machine with four quad-core processors ... running an embedded hypervisor.
Mark Schlack
vice president of Editorial, Storage and Windows Media GroupsTechTarget Inc.
"There were a lot of great products, and we were impressed by the facilities people have taken and made more user friendly or tailored them to fit into different-sized environment," said Mark Schlack, a judge and vice president of the Editorial, Storage and Windows Media Groups at TechTarget.
The awards span nine categories: capacity planning and other consolidation software; performance monitoring and optimization; migration tools (physical-to-virtual, virtual-to-virtual, virtual-to-physical software); data protection (backup, recovery and security); utilities, which includes software not covered by the other categories; and desktop virtualization software, as well as awards for green computing, best of show and best new technology.
Products being demonstrated but not available for purchase were considered only for the New Technology category.
A New Technology category award went to Boston-based Onaro Inc. for VM Insight, which will provide a cross-domain look at data center environments, from servers to storage, showing hot spots, virtual machines and their participating clusters. "It is rich in info for both physical and virtual machines," Schlack said.
Other New Technology category award winners include Littleton, Mass.-based Marathon Technologies Corp. for its everRun FT for XenEnterprise, which will provide fault tolerance via software in real time for XenSource servers. The judges said this fault-tolerance capability will become more common to address concerns about reliability, and the technology opens the door for mission-critical apps to be virtualized.
Austin-Texas-based InovaWave Inc. won for its upcoming InovaWave VirtualOctane for ESX Server. VirtualOctane is an I/O accelerator due out in the next few months and was awarded in this category based on the expectation that it will enable the virtualization of high-performance applications.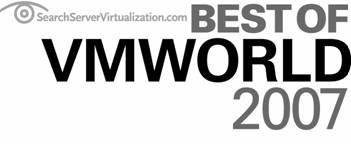 Because server virtualization technology is one of several IT initiatives that can significantly reduce power consumption in data centers, and both SearchServerVirtualization.com and its sister site SearchDataCenter.com have delved deep in covering the looming power crisis in data centers, the editors also presented awards in the Green Computing category.
The winners were 3PAR Inc. for the Fremont, Calif.-based company's 3PAR Utility Storage technology as well as its work to offset its carbon footprint and for its and Sunnyvale, Calif.-based Advanced Micro Devices Inc. (AMD) for its latest Opteron quad-core processor technology, which offers low voltage and power-down features on the processor.
The Best of Show award went jointly to IBM and VMware for the recently announced IBM System x 3950 M2 with VMware ESX Server 3i.
"This is the game changer here: an IBM data-class machine with four quad-core processors in one frame, connectable via InfiniBand, running an embedded hypervisor," Schlack said. "This makes [virtualization] simpler to administer and manage, adding a level of reliability and security. … IBM is the first to incorporate these attributes, to our knowledge, and will likely be followed by others."
The winners in the Capacity Planning, Consolidation Software category include a gold award for Richmond Hill, Ontario-based CiRBA Inc. for its CiRBA Data Center Intelligence 4.4 product. The technology allows IT managers to intelligently manage and bundle virtual machines in their environment, and the discovery and analysis combination appeared to surpass the competition, according to the judging process. A finalist in this category was Santa Clara, Calif.-based 3Leaf Systems for its V-8000 Virtual I/O Server.
In the Performance Monitoring and Optimization category, the gold award went to Littleton, Mass.-based Akorri Inc. for Akorri BalancePoint 1.7, an end-to-end management product that looks at virtual and physical environments. Finalists were San Mateo, Calif.-based B-hive Networks Inc. for B-hive Conductor and Netuitive Inc.for its Netuitive SI for VMware.
In the Migration Tools category, the gold went to Toronto-based PlateSpin Ltd. for PlateSpin PowerConvert 6.6, and a finalist was Waltham, Mass-based Leostream Corp. for Leostream P>V 4.0.
In the Data Protection and Security category, the gold went to Symantec Corp.'s NetBackup 6.5 for its tight and elegant integration with VMware Consolidated Backup, or VCB. Finalists include Cupertino, Calif.-based Blue Lane Technologies Inc. for VirtualShield and Boulder, Colo.-based LeftHand Networks Inc. for its Virtual SAN Appliance.
In the Utilities category, the gold went to Willoughby, Ohio-based Veeam Software for its Veeam Reporter 2.0. The judges found that it does a great job of aggregating information and putting it into a more useable format in the data center. The one finalist was Berlin-based ThinPrint GmbH for its .print Virtual Desktop Engine
And in the Desktop Virtualization Software category, a seemingly growing segment of the virtualization market over the past six months, the gold award went to ClearCube Technology Inc. for its Sentral 5.6, which the judges found to be "unparalleled" in its flexibility. The finalist was VMware Inc. for both VMware Workstation and VMware ACE 2.
Let us know what you think about the story; email Bridget Botelho, News Writer.
Also, check out our news blog at serverspecs.blogs.techtarget.com.
Dig Deeper on VMware conference coverage