XenServer gains fault tolerance with Marathon Technologies
Marathon Technologies' fault-tolerant software for physical servers now keeps Citrix XenServer virtual machines up and running during hardware failures.
A new version of everRun software from Marathon Technologies Corp. sets its sights squarely on fault tolerance for physical servers. The software is now available for Citrix Systems Inc.'s XenServer to keep virtual machines up and running when hardware fails.
As companies delve further into virtual environments and consolidate more mission-critical servers onto a single physical machine (VM), they have run into downtime and availability roadblocks. Marathon's everRun software enables server consolidation of critical systems without coming at the cost of uptime.
The new software, everRun VM, prevents outages and data loss in XenServer virtual infrastructures and keeps applications running in virtual machines in production even when an entire data center is down. The software maintains the availability of Citrix XenServer VMs by creating redundant virtual machines and performing synchronized mirroring of systems in real time on a secondary physical host (see Figure 1).
The everRun VM software is installed on top of the Citrix Xen hypervisor. A Web-based management console allows users to view VMs and choose which VMs to protect, and it works with any Windows Server application.
John Humphreys, the program vice president at IDC's Enterprise Platform Group, said Marathon's fault-tolerance product or virtualization is compelling because "it gives visibility into VM traffic and offers component-level tolerance to start and stop VMs automatically."
"With virtualization, you are putting five, six, 10 mission-critical servers on one physical machine. When you do that, you need a service that promises high availability," Humphreys said. "People will be willing to pay a premium to guarantee their VMs will be up and running at all times."
There are three levels of protection, beginning with basic failover (level one). Level two is component-level fault tolerance in which there is zero downtime should an I/O failure occur, and configuration and management is automated and recovery is guaranteed. System-level tolerance (level three) protects VMs against any type of failure and maintains the applications and memory in their pre-failure state. Level three will be available later this year.
Figure 1: Maintaining the availability of Citrix XenServer VMs by creating redundant VMs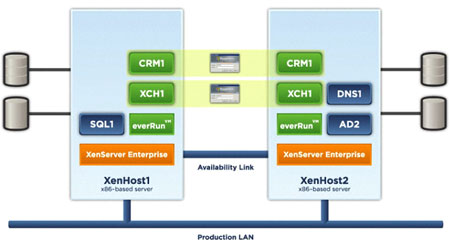 Marathon's everRun vs. existing HA options
VMware made the concept of high availability (HA) popular with its High Availability product, which automatically restarts virtual machines (VMs) on different ESX hosts if the hardware host fails, but the software isn't much help in disaster recovery situations because HA doesn't guarantee that the necessary resources on the target server will be available, said Michael Bilancieri, the director of products, Marathon Technologies.
Conversely, Littleton, Mass.-based Marathon guarantees recovery because the resources on the target server are automatically allocated and continuously monitored for health. Its features impressed analysts and judges who viewed the technology during VMware's September 2007 VMworld conference in San Francisco, and Marathon's everRun VM received the Best of VMworld award from SearchServerVirtualization.com.
"We have heard stories from customers that their first server would fail, so VMware HA would move the VMs to the target server. But once they moved over, the target server would crash because it didn't have the resources to support all the VMs," Bilancieri said.
Another competitor in the high-availability space is Palo Alto, Calif.-based SteelEye Technology Inc.. The company offers replication, failover and recovery software for both VMware ESX Server and Citrix XenServer, but differs from Marathon's everRun VM in that it requires manual setup, configuration and ongoing maintenance; everRun VM's setup, management and ongoing usage is fully automated.
"Adding fault-tolerant protection to an individual VM takes less than two minutes and results in a secondary VM being created on an alternate host with all storage being synchronously mirrored to maintain data and transactional integrity," said Bilancieri.
"The bottom-line difference [from SteelEye] is that by completely automating VM availability, everRun VM is so much more practical for midsized companies that don't have an army of IT people for setup and ongoing maintenance," Bilanceri said.
Marathon's everRun VM is priced at $2,000 per physical server and everRun VM bundled with Citrix XenServer Enterprise Edition costs $4,500 per physical server. With either option, premium service from Marathon Technologies costs an extra 25% per server.
Let us know what you think about the story; email Bridget Botelho, News Writer.
Dig Deeper on Disaster recovery, failover and high availability for virtual servers