News
Stay informed about the latest enterprise technology news and product updates.
Virtualization goes mainstream, warts and all
Virtualization technology has become entrenched data centers, with VMware as the overwhelming choice of virtualization platform, according to the Data Center Decisions 2008 Purchasing Intentions Survey. But managers remain cautious about third-party virtualization management tools.
The use of virtualization continues to grow in data centers, even for production-level applications. But with increased familiarity, data center managers have become increasingly aware of the challenges of managing a virtual environment.

More than 600 IT professionals took the Data Center Decisions 2008 Purchasing Intentions survey, and 61% of those already use some form of virtualization in-house. Another 29% will test, evaluate or deploy it this year. Only 10% of respondents had no plans for virtualization in their shops. The vast majority (79%) had fewer than 50 servers running virtualization, most (62%) running 10 or fewer virtual machines. At the same time, 5% had both more than 500 servers running virtualization, and more than 25 VMs per host. Further, in the coming year, 67% said that their use of virtualization would increase. Platform use: VMware still on top
Not surprisingly, VMware virtualization held the top spot among respondents, with 64% currently using one form or another of its software, largely ESX 3.5 (37%). The next largest non-VMware deployment was for Microsoft Virtual Server, at 7%, down from 12% last year. Of the remaining 13 virtualization platforms mentioned (e.g. Solaris Containers, mainframe zVM, HP-UX VSE, etc.), not one was used by more than 3% of respondents. But going forward, respondents expect to use a greater variety of virtualization platforms. Over the next 12 months, 97% of respondents will have deployed VMware in-house as one of their virtualization platforms. But only 13% will deploy Microsoft Hyper-V, 10% will have Red Hat Linux-based Xen, and 8% will have Citrix XenServer, Solaris Containers and IBM AIX-based virtualization. Figure 1: Virtualization deployments over the next 12 months



N=597

So what is IT doing with all this virtualization in their environments? It's fully exploiting virtualization's power across a broad range of applications. Like last year, the top three use cases remain application servers (74%), Web servers (67%) and network infrastructure apps (45%), but production databases are close behind, in use at a surprising 39% of shops. In fact, only 26% reported that they had not virtualized databases. In addition, respondents continue to make use of virtualization for disaster recovery and high availability (41%), to assist in the dynamic allocation of resources (29%), and even for desktop delivery (17% plan to deploy or extend their use of desktop virtualization, and another 22% will evaluate it).

Figure 2: Virtualization of database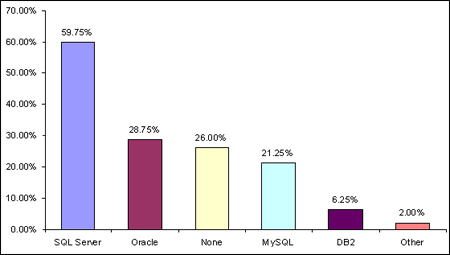 N=400 Third-party tool use for virtualization management: Still cautious
But virtualization isn't without its difficulties. Asked which systems management tasks gave them trouble in VMware environments, respondents responded with a laundry list of complaints. Chief among them, performance management, noted by 47% of respondents, followed closely behind by capacity planning (45%). Backup and restore, change management, disaster recovery, troubleshooting and migration were all listed as challenges by 20% to 30 % of respondents.
Customers are waiting to see [virtualization management tools] mature a bit before investing in them.
Chris Wolf,
analystBurton Group
Surprisingly enough, the challenges IT professionals report with their virtualized environments haven't prompted them to go out and purchase third-party management tools. Despite their difficulties with performance management, 71% of respondents have no such tools in-house; likewise, 65% have foregone third-party migration tools. However, respondents continue to both turn to third party providers for help with both security and backup – two areas VMware has not tackled head-on.

The relative lack of third-party management tools in use came as no surprise to Chris Wolf, a senior analyst at Midvale, Utah-based Burton Group. "There have been some problems with the third-party management tools, notably lack of integration up and down the stack," he said. The tools are also "relatively immature, and customers are waiting to see them mature a bit before investing in them." Tepid adoption of virtualization management tools may also have more to do with customer readiness than with the tools themselves, Wolf said. "This is really the first year that we've seen production on a huge scale, and IT managers are just starting to see problems firsthand," he said. "The time is now that you're going to start seriously looking at leveraging these tools." Figure 3: Virtualization budgets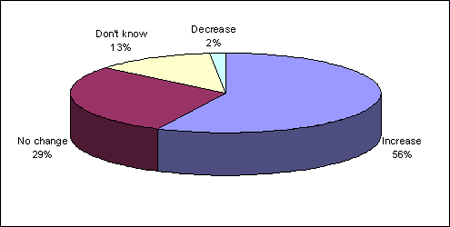 N=591

Despite challenges, virtualization has become more entrenched in data centers. The number of shops backing off virtualization efforts and investments is miniscule: only 2% reported that their virtualization budget will decrease. Meanwhile, 29% of respondents already have more than half their VMs running production-level apps: a number that 74% said will increase in the coming year. Virtualization is here to stay.

For SearchDataCenter.com's entire survey report, click here.

Let us know what you think about the story; email Alex Barrett, News Director. And check out our Server Virtualization blog.
Dig Deeper on Disaster recovery, failover and high availability for virtual servers